Balam Soto creates contemporary, exploratory artworks that fuse low tech with high tech, including interactive art installations, public artworks and video. Balam works independently on the artistic and technical sides of his pieces. An award winning, internationally acclaimed new media artist, Balam has exhibited in fine art venues worldwide including: the AluCine Latin Media Festival in Toronto, Canada; World Maker Faire at the New York Hall of Science Museum in Queens, NY; El Museo del Barrio in Manhattan, NY; Gallery of Oi  Futuro in Brazil; Queens Museum of Art  in Queens, NY; Everhart Museum of Natural History, Science & Art in Scranton,  PA; the Centre Cultural in Brussels, Belgium; the National Library of Cameroon in  West Africa; and the Art and Technology Corridor at the Three Rivers Arts Festival  in Pittsburgh, PA among numerous others. Balam has received four Editor's Choice awards from the World Maker Faire held at the New York Hall of Science Museum in 2010, 2012 and 2014. Balam is the owner of Balam Soto Studio and co-owner of Open Wire Lab, both located in Hartford, Connecticut.
The Latest from Balam Soto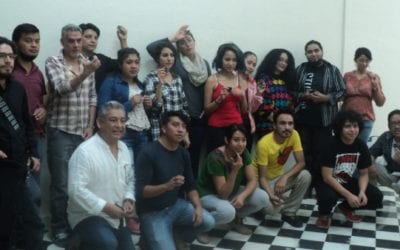 Women making technology. Photo: Balam Soto Fun times are still rolling here in Guatemala! After a week of soldering, programming, and LEDs, the participants have split into four groups to work on their own projects. I must say how impressive these four groups are....
read more

American Arts Incubator is an initiative of the U.S. Department of State's Bureau of Educational and Cultural Affairs developed in partnership with ZERO1.
Visit exchanges.state.gov
Visit zero1.org
info@zero1.org
T +1 408.909-3761