David Burke is a muralist and educator based in Oakland, California. His work has been exhibited nationally and internationally. Currently, Burke is the Art Director for the Superheroes Mural Project in Oakland, and recently co-founded the Autobody Bridge Program for emerging San Francisco Bay Area artists. In 2009, Burke was a visiting lecturer in painting at Chiang Mai University in Thailand, where he worked closely with art students and faculty for eighteen months.
Burke understands that the role of the muralist is not to impose one's own vision onto a space, but instead to translate the communal vision by listening to a diverse range of voices and ideas and allowing these contributions to shape the spirit of the project. Every community has a unique story to tell, and Burke's goal is to incorporate the rich histories of the people into murals that celebrate and acknowledge both the past and present while inspiring hope for the future.
The Latest from David Burke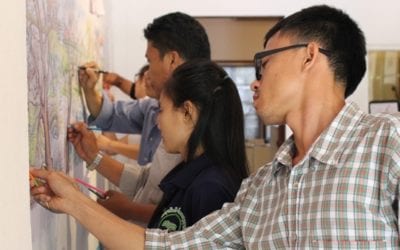 I have been in Vientiane for seven days. These days were packed with workshops and meetings with Lao artists, and youth and environmental groups where we made art, shared our dreams, and discussed ways to improve the environment. Photo: Kate Antonas This city is...
read more

American Arts Incubator is an initiative of the U.S. Department of State's Bureau of Educational and Cultural Affairs developed in partnership with ZERO1.
Visit exchanges.state.gov
Visit zero1.org
info@zero1.org
T +1 408.909-3761