Elaine Miu Cheung works at the intersection of art, design, computing, and technology. Originally from Los Angeles, she explores themes relating to our embodiment of tech, future systems, and experiential interactions. As a Chinese-American, she bridges ideologies from Eastern and Western perspectives and practices, which feeds into her most recent work on the nature of consciousness through wearable technologies. In 2013, she completed her BFA at University of California, San Diego majoring in Interdisciplinary Computing and the Arts and has just completed an MFA in Media Design Practices from Art Center College of Design. Her work has been exhibited in San Diego, Los Angeles, and Grinnell, Iowa. Most recently, she traveled to Myanmar as a summer researcher and UX designer at Proximity Designs, developing strategies for brand identity and joining a collaborative research team exploring betel farms and the potential for technological and smart systems in rural farming.
The Latest from Elaine Cheung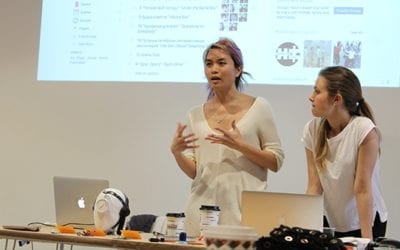 After an intense workshop series that expanded over the course of two weekends plus research excursions during the week, the participants defined their interests and finalized their ideas to develop community project proposals. These projects will be presented at the...
read more

American Arts Incubator is an initiative of the U.S. Department of State's Bureau of Educational and Cultural Affairs developed in partnership with ZERO1.
Visit exchanges.state.gov
Visit zero1.org
info@zero1.org
T +1 408.909-3761