Nathaniel Ober is an artist whose work crosses disciplines from installation and performance, to video and sound. His interdisciplinary works examine concepts of human perception and natural phenomena. Nathaniel's current research is focused on astronomy and astrophysics, which deal with techniques of sonification and processes that attempt to expose our innate connection with the universe. Nathaniel's work has been exhibited nationally and internationally with over 40 solo and group shows. In 2009 he moved to New Delhi, India to serve as Program Director of Visual Communication and Interactive Media Design at Raffles Millennium International, later transferring to the Raffles Design Institute in Colombo, Sri Lanka. He is currently working as a hybrid artist and educator in the Bay Area. He earned a Master of Fine Arts from the Digital Arts and New Media program at the University of California, Santa Cruz, and a Bachelor of Fine Arts from the Columbus College of Art and Design.
The Latest from Nathan Ober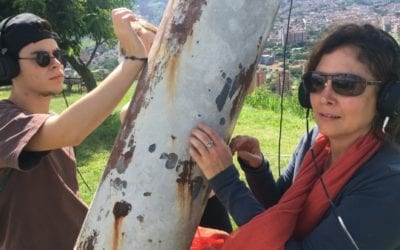 Last week, I took a small group on a field recording expedition. We hiked up a short mountain peak close to where I've been staying. As we traveled further up the side of the mountain, the city sounds began to dissipate and blur into a sea of fragmented voices and...
read more

American Arts Incubator an initiative of the U.S. Department of State's Bureau of Educational and Cultural Affairs developed in partnership with ZERO1.
Visit exchanges.state.gov
Visit zero1.org
info@zero1.org
T +1 408.909-3761