Xiaowei R. Wang is a designer working at the intersection of participatory geography and design computation. Her work applies the logic of ecology broadly, seeing spatial relationships as the foundation of socioeconomic and environmental systems, experimenting with open source technologies in developing world contexts.
Wang's recent projects include a geospatial drone strike platform for the UN Special Rapporteur on Counter Terrorism, and The Nomad, The Technologist, a design fiction centered on urban growth in Mongolia. Her project with Deren Guler, FLOAT Beijing, was an INDEX Design Award Finalist and used community do-it-yourself electronics workshops and kites to monitor air quality. Wang's work has been shown nationally and internationally, including Beijing Design Week's Advanced Computational Research exhibition and HkW, Berlin. Wang holds a BA from Harvard College and an MLA from the Harvard Graduate School of Design. She currently calls Oakland, California her home.
The Latest from Xiaowei Wang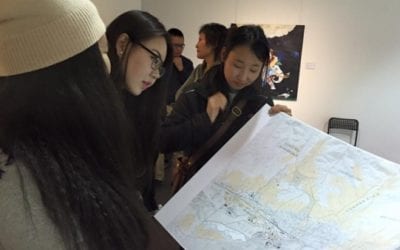 Hello, sain bainuu! Or, Сайн байна уу if we're being proper about our script usage. Like a lot of Soviet influenced countries, Mongolia uses Cyrillic script to phonetically spell out the language. The change in language, weather and time zone makes Mongolia feel like...
read more

American Arts Incubator is an initiative of the U.S. Department of State's Bureau of Educational and Cultural Affairs developed in partnership with ZERO1.
Visit exchanges.state.gov
Visit zero1.org
info@zero1.org
T +1 408.909-3761