The intensity of the heat engulfed me as I stepped out of the plane and onto the tarmac at Wattay International Airport in Vientiane. It was both arresting and comforting, reminding me of the hot summer days during my last trip to Laos almost four years ago. After spending the night under the bright lights and bustling atmosphere at the Bangkok airport, Vientiane was sleepy and quiet by comparison. My large boxes of paint and supplies were waiting for me inside the airport and I was relieved to be waived through customs with nothing more than a nod. After months of preparation and anticipation, I had finally arrived.
Photo: Tuk-tuk, David Burke 2015.
On my first night here I had the chance to attend an exhibition of young Lao artists who are breaking out of the traditional Lao art practices. It is easy to forget how fortunate we are to have the freedom to express ourselves creatively in the US. That freedom does not exist in the same way here in Laos as there are very rigid parameters for what contemporary art should look like. It was only my first night, but already I could feel the energy around the younger artists eager to push contemporary art in Laos into new territory. It was exciting and encouraging to meet these artists.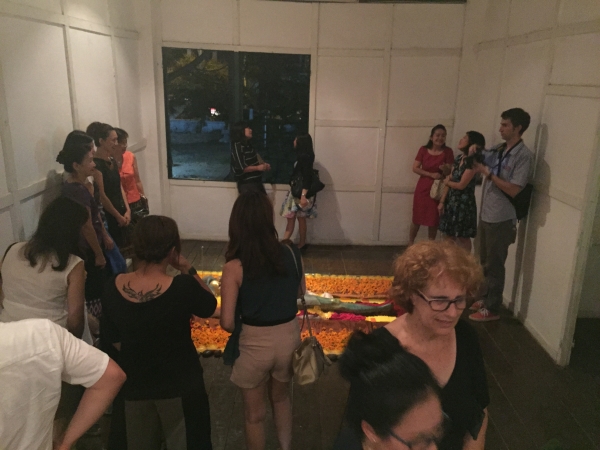 Photo: Art Exhibition for local artists, David Burke 2015.
That night, I was awoken by the drums from the neighboring temple. The drumbeats were soft and persistent, a subtle reminder of rich history and religious traditions that are such an important part of Laos culture.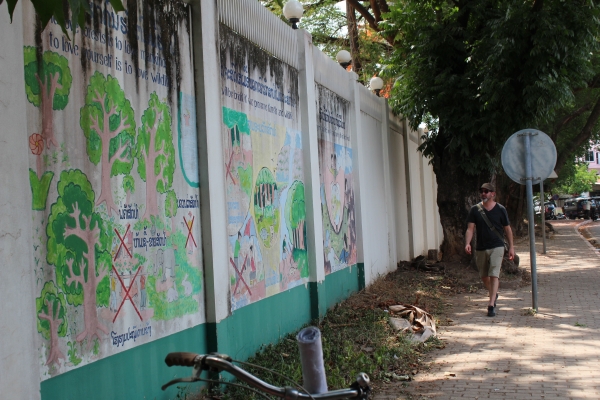 Photo: 
Old environment-themed mural in front of former US Embassy site, David Burke 2015.
Tomorrow night we officially kick off the Laos Arts Incubator project with an artist talk and lecture titled: Public Art and the Collective Conscience. It will be a chance for interested artists and groups to learn more about the project, ask questions, and hopefully be inspired enough to return for the workshops during the rest of the week. So excited to finally be here! More to come…