Dasha Ortenberg believes deeply in design's ability to stimulate critical thought, highlight the weirdness of individuals, and reveal uncanny overlaps of (sub-)cultures. Her cross-scalar and cross-media approach to space is the result of a perpetual fascination with modes of human communication, collaboration, and cohabitation. Having emigrated from the Soviet Union as a child, she is driven by a deep gratitude to the United States for having provided the opportunity to pursue her passions and understand her heritage, and works to promote and propagate such opportunities for others.
Dasha holds degrees in Art History and Linguistics (UC Berkeley), and Architecture (Harvard Graduate School of Design). Her formal education is supplemented by a variegated work experience, which includes radio, dance, and archival conservation. In her conceptual projects, pedagogical pursuits, and work for art and architectural practices she strives to combine traditional and contemporary technologies to transform individual narratives and historic cross-currents into socially-impactful spatial experiences.
She leverages the media of documentation, representation, and fabrication to highlight juxtapositions and create conversations that encourage mutual understanding. Her project, A Franchise of Difference, transformed documentation of interviews and sites from a 7,000-mile road trip into videos and architectural concepts represented through A/V and digital fabrication technologies.
The Latest from Dasha Ortenberg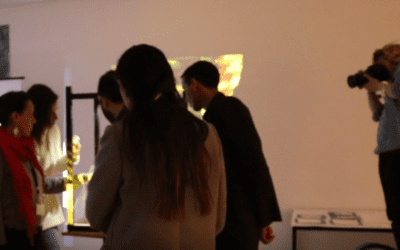 I am so proud, again, of all the participants as individuals and as teams. There are a few other notable teams that were crucial in realizing these project work: ZERO1, L'Uzine, and the American Consulate in Casablanca. I want to thank them for their help in...
read more

American Arts Incubator is an initiative of the U.S. Department of State's Bureau of Educational and Cultural Affairs developed in partnership with ZERO1.
Visit exchanges.state.gov
Visit zero1.org
info@zero1.org
T +1 408.909-3761