Brittany Ransom is an artist and educator currently living in Long Beach, California. Ransom is the recipient of numerous awards and grants including the Camera Obscura Art Lab Residency (2018), Workshop Residency in San Francisco (2016), the Arctic Circle Research Residency (2014), University Research council and Instructional Technology Grant Awards (2013-2014), and the prestigious College Art Association Professional Development Fellowship (2011). Ransom has shown internationally and nationally and has been featured in numerous publications. Her most recent work has been exhibited in Los Angeles, Berlin (as part of Transmediale 2017), Chicago, and Dallas. Ransom served as the 2017 SIGGRAPH Studio Chair and will serve as the 2019 SIGGRAPH Art Gallery Chair, both in Los Angeles.
Ransom received her Master of Fine Arts Degree in Electronic Visualization from the University of Illinois at Chicago (2011) and her Bachelor of Fine Arts from The Ohio State University with a concentration in Art and Technology (2008). Ransom is currently serving as the Program Head of Sculpture/4D and is an Assistant Professor of Sculpture + New Genres at California State University Long Beach. As a member of the faculty of the College of The Arts, she works within the sculpture area and specializes in 3D computerized production/digital fabrication and physical computing/kinetics. Prior to living in Long Beach, California, Ransom was the Assistant Professor of Digital/Hybrid Media at Southern Methodist University in Dallas, Texas for three years. Ransom has also lived and worked in Chicago, Illinois and Columbus, Ohio. Ransom is half African-American and white and was born and raised in the small city of Lima, Ohio.
The Latest from Brittany Ransom
At the end of May, I completed my ZERO1 American Arts Incubator exchange in Pachuca, hosted by CITNOVA. I arrived in Mexico City a few days prior to the beginning of my exchange, where I spent five days exploring museums, historical and cultural sites, and learning as...
read more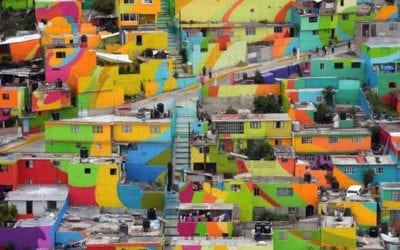 Photo courtesy of The Guardian.  When you do a Google search of Pachuca, Mexico, one of the first and most prominent images that repeats itself through the algorithmic results is a picture of two hundred homes whose facades collectively make a large mural that bathes...
read more

American Arts Incubator is an initiative of the U.S. Department of State's Bureau of Educational and Cultural Affairs developed in partnership with ZERO1.
Visit exchanges.state.gov
Visit zero1.org
info@zero1.org
T +1 408.909-3761