Pristina, Kosovo
Lori Hepner's "Tracing Pathways: Youth Movement, Light, and Wearable Technology" is an introduction to various ways of engaging in communities on-site through light, movement, and wearable technologies. Hands-on workshops explore the basics of real-time projections, soft circuits, wearable technologies, and movement in site-specific community projects. These basic techniques allow participants to expand their ideas and prototype inventive projects that can empower Kosovan youth to innovate in their communities.
No Results Found
The posts you requested could not be found. Try changing your module settings or create some new posts.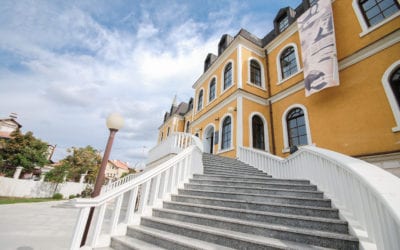 In a few weeks, I will be arriving in Pristina, Kosovo on the somewhat magical-feeling, transient leap year day, February 29th. That most of my travel from Pittsburgh, PA falls on this day will amuse me as I prepare for my month of leading workshops in youth empowerment to a group of Kosovar artists, makers, and dreamers.
read more
| Title | Address | Description |
| --- | --- | --- |
| U.S. Embassy Pristina — Kosovo | Ahmet Krasniqi, Prishtinë | |
| | Prishtina | Exchange Location |
Pristina, Kosovo
U.S. Embassy Pristina – Kosovo
About Our Host Partner, National Museum of Kosova
Founded in 1949 and opened as a museum in 2014, The National Museum of Kosova is the earliest institution of cultural heritage in Kosovo, established with the goal of preserving, restorating, conserving and presenting the territory's tangible heritage. 

American Arts Incubator is an initiative of the U.S. Department of State's Bureau of Educational and Cultural Affairs developed in partnership with ZERO1.
Visit exchanges.state.gov
Visit zero1.org
info@zero1.org
T +1 408.909-3761