Michael Kuetemeyer is an award winning media artist and teacher of experimental and documentary media. He received his MFA from Temple University and BS from University of Wisconsin – Madison. He is a recipient of a Fulbright Scholar Award and a founder of Termite TV Collective. His work has been broadcast on PBS and screened at festivals and museums worldwide, including the Museum of Modern Art, the Flaherty Film Seminar & the Museum of Television and Radio, New York. As part of SPACES, a social practice artist residency funded by ArtPlace America, he is currently an Artist in Residence at the Village of Arts & Humanities in Philadelphia. He is committed to creating innovative, socially engaged participatory media art projects with communities. He was awarded a Mid Atlantic Arts Foundation, Artist and Communities Grant to conduct a youth filmmaking residency at the Reichhold Art Center in the U.S. Virgin Islands. Michael currently teaches in the Film & Media Arts department at Temple University.
The Latest from Michael Kuetemeyer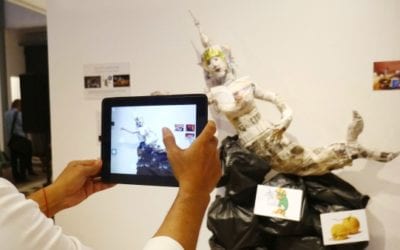 As a representative from the United States, it was inspiring to see that addressing environmental issues is such a high priority among so many people in Cambodia. Leaders young and old are working hard with beautiful creativity to heal our world. The American Arts...
read more

American Arts Incubator is an initiative of the U.S. Department of State's Bureau of Educational and Cultural Affairs developed in partnership with ZERO1.
Visit exchanges.state.gov
Visit zero1.org
info@zero1.org
T +1 408.909-3761