Tiare Ribeaux is a Hawaiian-American new media artist and curator. She is the founder and artistic director at B4BEL4B Gallery which is focused on innovation, radical inclusivity, and the showcasing of women and critically underrepresented groups in technology and media arts spaces. As a curator she is interested in the cross-fertilization of visual arts, science, and technology, and aims to show critical works that actively dismantle and subvert gender and class. As an artist she is interested in exploring the entanglements of human technologies and infrastructures with mythologies, the environment, and non-human species.
Tiare has a background in fashion design and biotechnology, and was involved in the early stages of research converting algae to biodiesel at the Natural Energy Laboratory of Hawaii Authority. She recently produced the Soundwave 7 Biennial in San Francisco and has curated productions with Gray Area, de Young Museum, California Academy of Sciences, Fort Mason Center for the Arts, Oakland Museum of California, and more. She has shown work both nationally and internationally, including ISEA Hong Kong, Transmediale Berlin, and Tokyo Fashion Week.
The Latest from
Tiare Ribeaux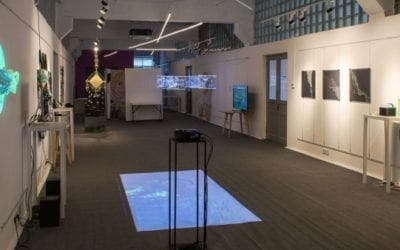 It's been an incredible month at IZOLYATSIA, and I can't believe how far we've come! March 29th was the opening reception for Emergent Tributaries at IZONE, showcasing collaborative works from the community groups as well as myself. The name of the exhibition is...
read more

American Arts Incubator is an initiative of the U.S. Department of State's Bureau of Educational and Cultural Affairs developed in partnership with ZERO1.
Visit exchanges.state.gov
Visit zero1.org
info@zero1.org
T +1 408.909-3761