Gene A. Felice II bridges his creative practice across art, science, education, and design, developing a sustainable network of innovation, living systems, and emerging technologies. His hybrid practice grows at the intersection of nature and technology, developing coactive systems as arts science research. His interactive work uses input sources from bio- and eco-sensors, cameras, touch screens, and online data sources, feeding output from motors, LEDs, speakers, and more. These interdependent systems of hardware and software translate research through conceptual frameworks into multi-sensory puzzles.
His recent work explores both passive and active modes of interaction, providing multiple ways for audiences to engage with his work. Video and animated imagery displayed via projection mapping transform two-dimensional surfaces and architectural structures into three-dimensional storytelling systems. While keeping site-specific histories in mind, he achieves confluence by merging these varied passions into a system of creative collaboration.
Felice is an assistant professor within the Intermedia & New Media programs at the University of Maine where he is developing his Coaction Lab. His work has been featured nationally at the Yerba Buena Center for the Arts in San Francisco, and internationally at Sussex University in the UK as well as ISEA Hong Kong.
The Latest from Gene Felice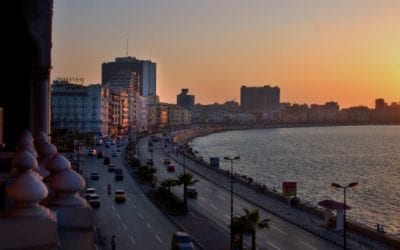 Alexandria — Egypt. Photo by David Evers [CC BY 2.0], via Wikimedia Commons. As I prepare to embark on my journey to Egypt to begin the American Arts Incubator program in collaboration with ZERO1 and Alexandria Creativity Center, a year's worth of preparation is...
read more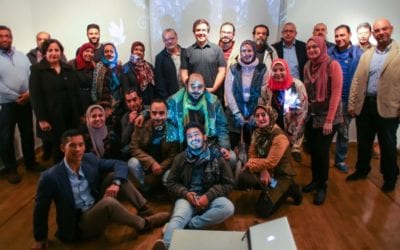 Group shot. Photo by Maged Makram. The past few weeks have been spent in reflection on the American Arts Incubator workshops and project development in collaboration with ZERO1, the El Horreya Creativity Center and U.S. Consulate Alexandria. The final culmination of...
read more

American Arts Incubator is an initiative of the U.S. Department of State's Bureau of Educational and Cultural Affairs developed in partnership with ZERO1.
Visit exchanges.state.gov
Visit zero1.org
info@zero1.org
T +1 408.909-3761