Kyiv, Ukraine
Ellen Pearlman's exchange explores digital and media literacy through art and artificial intelligence. Participants learn collaborative practices combining hardware and software, coding, conceptual design, and resource-sharing, as well as approaches to ideation and implementation. Pearlman aspires to give participants confidence and strength in their own vision. She then helps them realize that vision through group collaborations to reclaim their narrative and cultural identity in relation to current and past political situations.
No Results Found
The posts you requested could not be found. Try changing your module settings or create some new posts.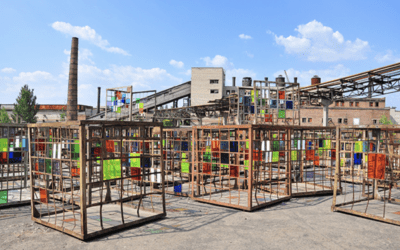 I first visited Kyiv Ukraine in 1992, the first year of Perestroika, and again in 1993. I met Ukrainian artists in New York City by chance during an open art studio day in Brooklyn, and one of the artists I met was from Kyiv. She spontaneously invited me to visit her hometown, saying she would set me up with a place to stay (this was pre-AirBnb)…
read more
| Title | Address | Description |
| --- | --- | --- |
| U.S. Embassy Kyiv — Ukraine | Aviakonstructor Igor Sikorsky St, 4, Kyiv, Ukraine, 04112 | |
| | Kyiv, Ukraine, 02000 | Exchange Location |
Kyiv, Ukraine
U.S. Embassy Kyiv – Ukraine
About Our Host Partner, IZOLYATSIA
IZOLYATSIA is a platform for cultural initiatives founded in 2010. They are a multidisciplinary cultural project open to all genres of creative expression, and a point of intersection for all those passionate about cultural and social change. IZOLYATSIA has three intertwined directions of activity: art, education and projects geared at activating Ukraine's creative sector.

American Arts Incubator is an initiative of the U.S. Department of State's Bureau of Educational and Cultural Affairs developed in partnership with ZERO1.
Visit exchanges.state.gov
Visit zero1.org
info@zero1.org
T +1 408.909-3761