Sara Dean
Sara Dean is a designer and architect based in San Francisco. She is the Assistant Professor and Assistant Chair of Graduate Design at the California College of the Arts. She directs the research design practice VUCA and is an ongoing investigator for PetaJakarta.org, a real-time flood map of Jakarta, Indonesia. Her work considers the implications of digital and social media as urban infrastructure, especially in relation to issues of the Anthropocene. This work bridges various scales and media, including book, exhibition, interface, and building design. Dean has a Master of Architecture and a Master of Science in Design Research, both from the University of Michigan. She has previously taught at University of California – Berkeley, University of Michigan, and College for Creative Studies.
Beth Ferguson
Beth Ferguson is a designer and public artist based in San Francisco and is Assistant Professor of Industrial Design at University of California – Davis. She runs Sol Design Lab, a solar furniture design/build company. Her work positions solar energy as a civic and public resource.
Ferguson has engaged thousands of participants through her design practice, which includes iconic solar charging stations, up-cycled public furniture, and community-engaged Green Maps. She has received commissions from organizations such as SXSW, Austin Energy, ZERO1 Biennial, TEDxPresidio, Galvanize, Coachella, and Maker Faire, and has been featured in the New York Times, Pop-Tech, and San Francisco Bay Guardian. Ferguson has taught solar design at Stanford University, The Art Institute of Chicago, Hampshire College, and the University of Texas at Austin. She has an MFA in Design from the University of Texas at Austin.
The Latest from Sara Dean & Beth Ferguson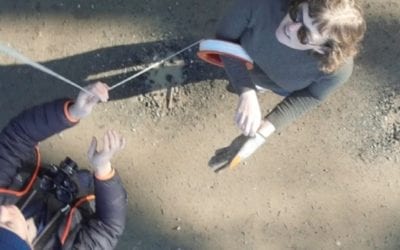 Balloon mapping, using a tethered red weather balloon with a small time lapse camera attached, was a great way to meet curious walkers along the water's edge. It was also an amazing way to explore and document areas along Dunedin's coastline that are vulnerable to sea...
read more

American Arts Incubator is an initiative of the U.S. Department of State's Bureau of Educational and Cultural Affairs developed in partnership with ZERO1.
Visit exchanges.state.gov
Visit zero1.org
info@zero1.org
T +1 408.909-3761