Corniche waterfront, Alexandria. Photo by Francisco Anzola.
Curbing shoreline pollution in Alexandria
Gene Felice will be addressing coastline pollution in Alexandria by exploring community relationships with the sea. He has extensive experience with projects addressing the health of oceans and their shores. During his exchange, he will cultivate a community hub that fosters social inclusion, ecological sustainability, and DIY art- and science-based collaboration.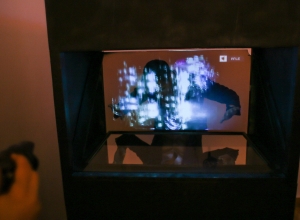 Call for Life
Visualizing the importance of ocean preservation with media arts This multi-piece project addresses the importance of ocean preservation in a...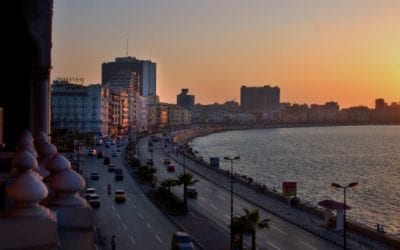 Alexandria — Egypt. Photo by David Evers [CC BY 2.0], via Wikimedia Commons. As I prepare to embark on my journey to Egypt to begin the American Arts Incubator program in collaboration with ZERO1 and Alexandria Creativity Center, a year's worth of preparation is...
read more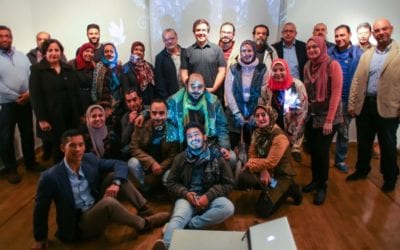 Group shot. Photo by Maged Makram. The past few weeks have been spent in reflection on the American Arts Incubator workshops and project development in collaboration with ZERO1, the El Horreya Creativity Center and U.S. Consulate Alexandria. The final culmination of...
read more
| Title | Address | Description |
| --- | --- | --- |
| U.S. Consulate Alexandria | Montazah Park - Alexandria، El Saa Square, Al Mandarah Bahri, Qesm Al Montazah، Alexandria Governorate, Egypt | |
| | Alexandrie, Egypt | Exchange Location |
Alexandria, Egypt
U.S. Embassy in Alexandria— Egypt
The Alexandria Center for Creativity is an arts and culture center as well as a community exhibition space which hosts a range of creative activities and workshops, and is overseen by the Egyptian Ministry of Culture's Cultural Development Fund. The center was officially opened on October, 2001.

American Arts Incubator is an initiative of the U.S. Department of State's Bureau of Educational and Cultural Affairs developed in partnership with ZERO1.
Visit exchanges.state.gov
Visit zero1.org
info@zero1.org
T +1 408.909-3761