Beatrice Glow highlights human interconnectivity while amplifying stories lying in the shadows of colonialism, migration, and inequality. Her interdisciplinary art practice is comprised of sculptural installations, participatory performances and lectures, and experiential technology collaborations.
She has been named 2016-17 Artist-in-Residence at the Asian/Pacific/American Institute at New York University, Honolulu Biennial artist, Wave Hill Van Lier Visual Art Fellow, Joan Mitchell Foundation Emerging Artist Finalist, Hemispheric Institute Council Member, Franklin Furnace Fund grantee, and US Fulbright Scholar. Solo exhibitions include "Beatrice Glow: Spice Routes/Roots" at the Duke House with NYU Institute of Fine Arts; "Aromérica Parfumeur" with Museo Nacional de Bellas Artes de Chile; "Lenapeway" and "The Wayfinding Project" at New York University; at Wave Hill; and "Floating Library" — a pop-up public space aboard the historic Lilac Museum Steamship on the Hudson River. Glow is featured in Duke University Press' Cultural Politics, has written for post at MoMA, and published Taparaco Myth, a trilingual artist book. She has presented performance lectures with Asia Contemporary Art Week's Field Meetings at Asia Society and Venice Biennale 2015. She holds a BFA in Studio Art from New York University.
The Latest from Beatrice Glow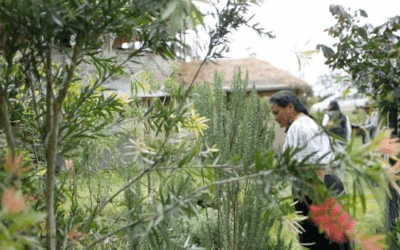 Arriving in Ecuador during the time of corn harvest, I was deeply impressed by the magnificent cornfields. I envision that was what parts of Manaháhtaan (precolonial Manhattan) used to look like. I also was delighted to learn that the companion-planting agricultural...
read more

American Arts Incubator is an initiative of the U.S. Department of State's Bureau of Educational and Cultural Affairs developed in partnership with ZERO1.
Visit exchanges.state.gov
Visit zero1.org
info@zero1.org
T +1 408.909-3761