Kendal Henry is an artist and curator who lives in New York City and specializes in the field of public art. He illustrates that public art can be used as a tool for social engagement, civic pride and economic development through the projects and programs he's initiated around the world. Kendal believes that the most successful public artworks start with the question, "What do you want the artwork to do", and takes into account the audience and surrounding environment in the creation of that artwork.
He's currently the Director of the NYC Department of Cultural Affairs' Percent for Art Program and served as the Director of Culture and Economic Development for the City of Newburgh, NY, Manager of Arts Programs at the Metropolitan Transportation Authority Arts for Transit Program and Project Manager at the New York City Department of Cultural Affairs' Percent for Art Program. Kendal was also the Curator-at-large at MoCADA in Brooklyn, NY and has served two 3-year terms on the Americans for the Arts Public Art Network Council.
The Latest from Kendal Henry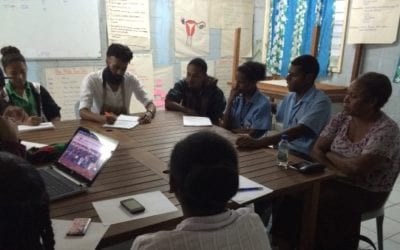 The first workshop at the YWCA was with young members of the Youth Adolescent Health (YAH) Club and Youth Against Corruption Association (YACA). Both groups formed their own governing bodies through a democratic process and are very active in discussing concerns...
read more

American Arts Incubator is an initiative of the U.S. Department of State's Bureau of Educational and Cultural Affairs developed in partnership with ZERO1.
Visit exchanges.state.gov
Visit zero1.org
info@zero1.org
T +1 408.909-3761