"The long poem of walking manipulates spatial organizations… it is neither foreign to them… nor in conformity with them."
—Michel de Certeau, The Practice of Everyday Life
I am so humbled by this opportunity to simultaneously teach and learn in Casablanca this March. And I am so excited and fascinated by the process of investigating how to explore questions of interest and concern to participants from a wide range of backgrounds.
It's exhilarating to feel how aligned my host organization, L'Uzine, is with the goals and strategy for the exchange.  After checking in this Saturday morning with Zineb at L'Uzine, it was clear that we are on the same page: working to develop an exchange that emphasizes interdisciplinary, cross-media, and cross-scalar collaboration and looking forward to the discoveries and experiences it might produce!
Together, workshop participants and I will be testing how research into personal narratives and critical cultural questions can be articulated through urban spaces; how collecting can lead to creating; how data visualization and mixed digital and manual prototyping can evoke and interrogate concepts; and how mixed qualitative-quantitative analysis can form the framework, foundation, and inspiration for novel sensory experiences.

Circulation Oppositions, Dasha Ortenberg, 2012
The topic of the AAI exchange in Casablanca is youth empowerment2. The idea of the workshops is to provide conceptual frameworks and technical skillsets that  facilitate innovation, entrepreneurship, and engagement. For those participants developing an artistic identity, I hope the workshops can also help with discovering and choosing expressive media; while for more experienced participants, the skills may help bring new research and data-processing techniques into their work.

Proficiency, 2018. Image by Dasha Ortenberg. 
For me, the development of these frameworks started with my family and the childhood experience of immigration. More recently, I have started to dissect (and self-map) the complex paths that experience led me down.
The self-map image starts to get at the following questions:
What can we discover when we start to explore the individual as a vessel of socio-historic confluences through quantitative analysis?
How does one identify, question, embrace, and express an awareness of one's own familial and philosophical lineage(s) in the process of exploring socially-critical topics?
Can some of it happen through numbers? Can spreadsheets shed their corporate connotations and become powerful tools for artists? 
Can some of it happen through the senses? How can we identify and deploy physical experiences in exploring and articulating intellectual challenges
Where is the limit of one type of mapping and what subjective additions to we make to maps when representation breaks down?
And how can we unroll an experience to discover and display narratives of cultural relationships?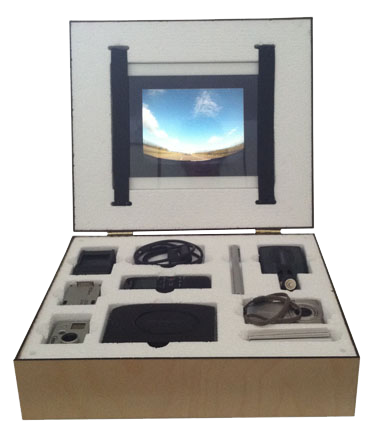 Roadtrip toolkit, Dasha Ortenberg, 2012; fabrication assistance by Becca Bartlett.
L'Uzine is already involved in exploring its urban context. In particular, the Aïn Sebaâ exhibit investigated its neighborhood. I hope that this exchange will offer a way to supplement the great work under way and to develop some novel approaches to understanding self and space.
Wait — did I already say how excited I am to see what backgrounds, interests, and media workshop participants bring into the fold? What implications might rhetorical construction, collection, data visualization, and mapping have for the modes of expression and creation that participants engage in? I look forward to observing and participating as responses to these questions (and more!) coalesce and dissolve in the experimental framework of the "Rhetorical City" workshops at L'Uzine!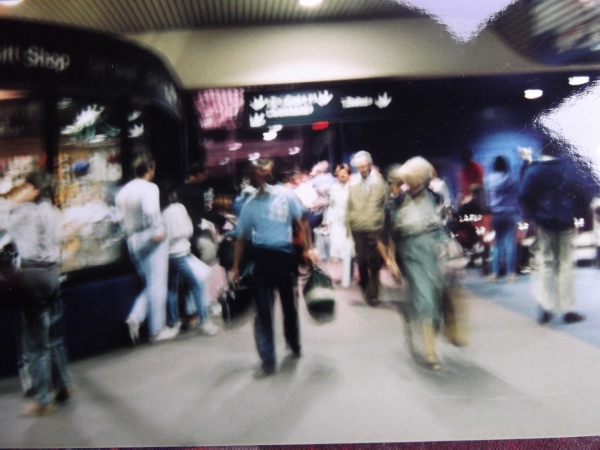 Arrival, Oakland, California, 1987. Photograph by Misha Bruk, reproduced courtesy of the photographer.