The average temparature of Earth's whole atmosphere cycles up and down each year because its southern hemisphere has more ocean coverage than the northern hemisphere. When these temperatures are graphed throughout the past 137 years you see that there is a range of warmer and cooler years. Color coding by time range produces a sharply separated rainbow – revealing a tragectory.  The separated lines in recent years show that unfortunately this temperature velocity is accelerating.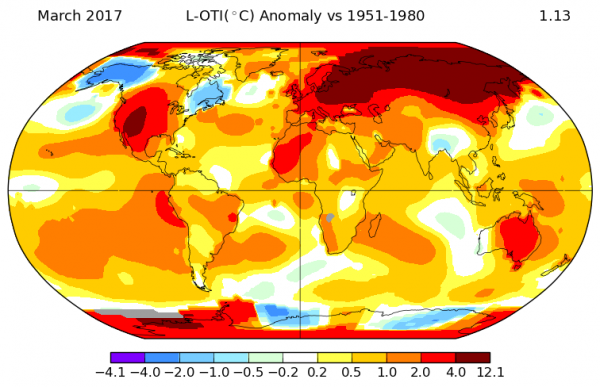 Global map of the March 2017 LOTI (land-ocean temperature index) anomaly shows that North America and Siberia were again much warmer than the 1951-1980 base period.
How can we sustain our ability to live on this shared planet?
---
Preparations are underway for the American Arts Incubator Cambodia environmental sustainability workshop at Bophana Center, Phnom Penh!
Kruosar Solar / NRG Solutions and Bophana Center are meeting to discuss the installation design factors of the new solar powered time lens media installation. We will be setting up the system next week and aim to have collected enough electricity to be inaugurated it by powering the April 21st artist talk and the the week-long workshop starting on Earth Day, April 22nd.
The workshop is open to anyone in Phnom Penh interested in using media to improve environmental health. To enroll please apply here:
Time Lens Workshop – Immersive Media Pathways to Sustainability
Session 1 – Earth Day – Past
Saturday April 22, Bophana Center
Virtual Reality – Immersion into a location at a previous time
Ricoh Theta–S 360 camera, Kolor Panotour Pro virtual tour authoring software
Session 2 – Present
Sunday April 23, Bophana Center
Augmented Reality  – Layering onto the current location
Aurasma augmented reality app
Session 3 – Moments
Wednesday April 26, Design Innovations
Work session for Video editing, and VR/AR editing and authoring
Session 4 – Future
Saturday April 29, Bophana Center
Collaboration and Creativity – What impacts do these media produce? What futures do we see through the time lenses? What "images" are revealed?
Session 5 – Sustainability
Sunday April 30, Bophana Center
What kinds of time lenses can be focused on sustaining the abilities of our shared environment?
4 groups pitch their project ideas. These are developed in the following 2 weeks, each with a $500 project grant.
---
Sustainability Achievement unlocked – One Million Liter Rain Catchment System
In preparation for the Arts Incubator I have been training up my own sustainability skills and have just completed a fresh water collection system.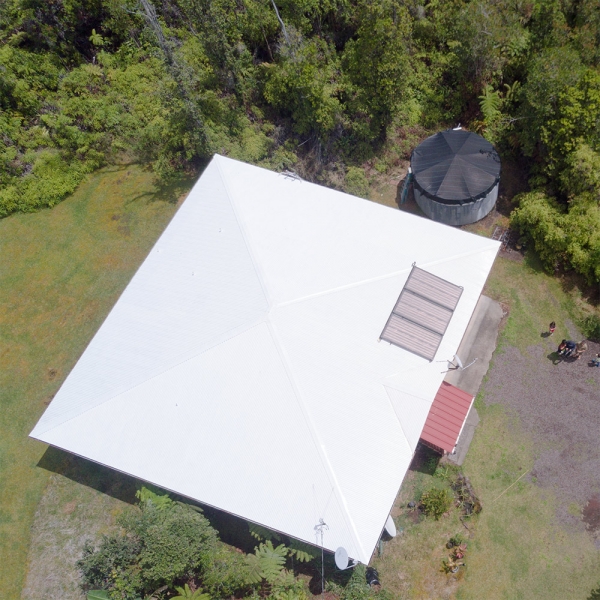 Catchment roof. Photo: Michael Kuetemeyer 2017
A silicone painted roof clean rain catchment system that collects 1 million liters of fresh water each year.
The roof is a square that is 15.5 meters per side = 240 square meters of surface area
At this location, the rainfall averaged 4.55 meters per year between 1993 – 2010.
The average annual volume of water that falls on the roof can be calculated by:
240 square meter roof area x 4.55 meter depth of water
= 1092 cubic meters of water
= 1,092,000 liters of rain collection.
The rain water is stored in a 37,000 liter water tank. When needed, it is filtered, UV sterilized and pumped throughout the house.