The community project descriptions below were written by participants in American Arts Incubator — Guatemala. All four projects are collaborating to form a single makerspace, each contributing to an aspect of the whole. These projects were initiated during Balam Soto's Incubator workshop and will continue to develop after the Incubator is complete.
Community Project: Makerspace
A "makerspace," also known as a "hackerspace," is a physical or mobile space for people to join and share resources or knowledge. It contains different tools and accessories which facilitate the development of projects and ideas, establishing modular standards to be adapted to different environments. In order to do this well, one needs a mobile makerspace as well as a stationary one.
Our main idea in order to begin this project was a mobile makerspace. Following this intention, there was an outpouring of ideas for different models and structures that could inform our makerspace design. Our current model originated from the concept of a wheeled cart used by gum vendors, which one can find on any corner or street in Guatemala City. We felt this would make it immediately "friendlier" since people are used to seeing them everywhere everyday.
The structure of our mobile makerspace is a composite piece made with wooden boxes that are removeable. In these boxes we can store tools in different compartments for categories like: Carpentry, Finances, Programming, Art, Smithy, Marketing, Electronics, Design, Cooking, Photography, Engineering, Technology, Math, and Theater. Our makerspace has many tools, from soldering irons to hammers, painting supplies, etc.
The goal of the project is focused on economic equity. Looking for a way to integrate this focus, the makerspace has a mission to promote multiple creative processes and shared resources that boost economic benefit based on personal and group wellness. Our makerspace, RedCrea, is open to all kinds of people. It will be taken to all types of places, like schools, communities, etc.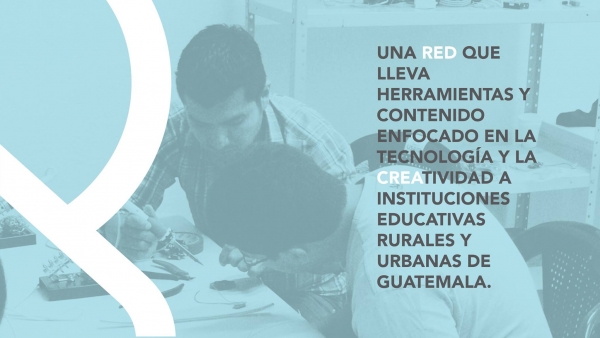 RedCrea promotion. Photo: Andrea B.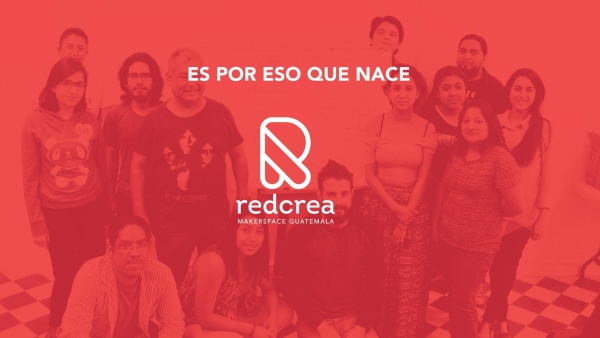 RedCrea is born. Photo: Andrea B.
Community Project: Open Source Web Knowledge
Is an opensource web tool to add tutorials, how to etc base on Guatemala culture, the main ide is to make a place were creative and commun knowledge has an online presence.
Every little moment of life goes unnoticed: the sun, eating, sleeping, living… ah, also posting, sharing (virtually), everything so daily and routinely…every morning, nothing can escape…nothing to be postponed for next week, it has to be there every morning…for a fraction of a moment, you stop, open your eyes, and breathe… let oxygen go through your brain, life becomes real, the good and the bad awaken… the pleasant sun joins this day, the restlessness to improve turns unbearable…the daily demands raise your fears, but today, the decision is already made. The needs have made themselves heard, many times it will not be ignored.
Ideas join in, also wishes, experiences not so much, we have to tear down these walls, forget the smartphones. Getting up is the order: get up!
Today I fulfill my assignments, victory is ours, and the nation has been saved.
Who would be left out? Are there any cowards among us?
You have a lot to give, we have even more to give you.
Now, we sail with all our abilities, follow the wind, face the storms, and accept our weaknesses only to become stronger, now we sail to win.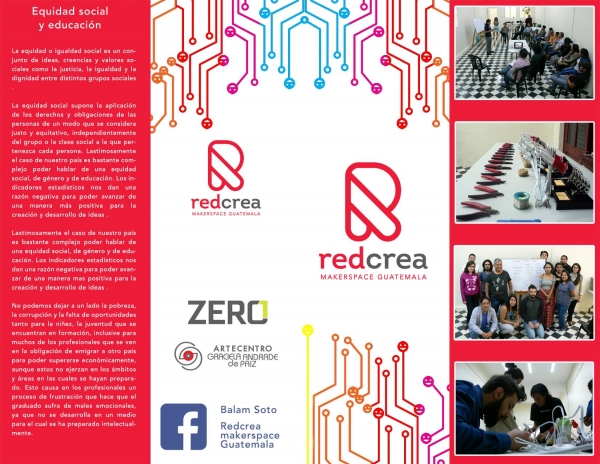 Social equity and education. Photo: Angel Castellanos
We envision economic equity through the use of art and technology as a means for human development. From the perspective of RedCrea, economic equity is a social concept under which people have the same opportunities in order to achieve their goals, personal success depending on how much individuals take advantage from these opportunities.
As we analyze it from this perspective, we notice that in Guatemala this is far from a reality. So initiatives like RedCrea can bring opportunity to more people, giving them access to diverse opportunities, specifically through access to art and technology.
Considering the positive impact of art on people's ability to learn, and the influence of technology in a world in which the rate of new inventions and discoveries is at the highest in history. We consider it undeniable that access to art creation and technology is crucially important for any person.
Talking about these topics in developing countries has the tendency of being done under the supervision, considered sometimes sacred, of those who had the privilege of access. That is why at RedCrea the main objective is to give voice to those deprived of access by any circumstance, so that they become both actors and participants of the present and future.
As an education team, we visited a community in Santa Catarina Pinula, in order to gain a better understanding of their youth and to offer a workshop based on artistic creativity and technology. Together with the help of the collective, we developed topics, materials and processes aimed at this goal, integrating everything by promoting maker culture.
We are now developing a three-month course, once a week, for children and youth from Santa Catarina Pinula as a pilot, with topics focused on technology and community development for the attendants to become active participants in the growth within their community.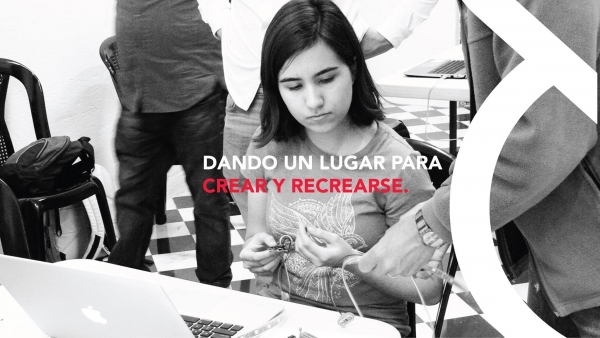 Giving a Place. Photo: Daniela Briseno
During the last three weeks, we have faced a big challenge as a developing group because in order to focus on the topic of economic equity, we needed to address the worst problem affecting Guatemala: high economic inequality and poor access to education.
We decided to create a maker space that we called RedCrea, which is a collective initiative for inquisitive minds: artists, designers, creators and makers who bring art and technology to children and youth with the objective of changing the way in which they learn and develop themselves.
We have been contributing ideas, designing webpages, social networks, branding, and the graphic identity and colors which represent us: red, white, light blue, and gray for they represent technology, dynamism, and creativity.
Our mission is to provide technology, maker culture, and the development of reasoning skills in order to modify the way in which people learn and communicate with one another; bringing materials, tools, educational methodologies, contents, and supplies to urban and rural educational institutions in Guatemala.
Our vision is tools, technological and artistic knowledge to children and youth in order to reduce the opportunity access gap and allow them to be competitive in a globalized world, pursuing economic equity in Guatemala.
We hope that with this project, we can help Guatemalan youth to have a broader vision of their future, learn about the internet, art, technology, and programming and apply them in their lives to even work in it later, as well as encouraging them to leave their comfort zone to try new things, unknown in their environment.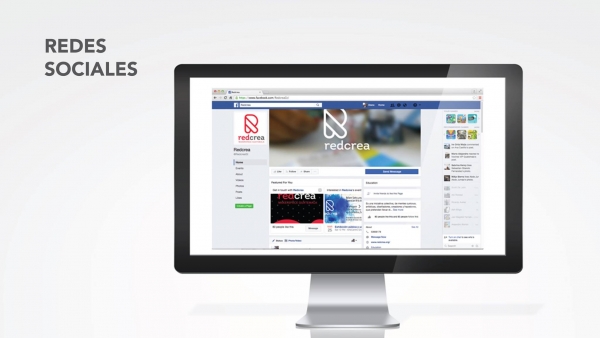 Social networks. Photo: Angel Castellanos