The community project descriptions below were written by participants in American Arts Incubator — Russia. All four projects explore aspects of inclusion through design prototypes that speculate what future inclusive programs could look like in local Moscow communities. These projects were initiated during Elaine Cheung's Incubator workshop and will continue to develop after the Incubator.
Community Project: E-Clothes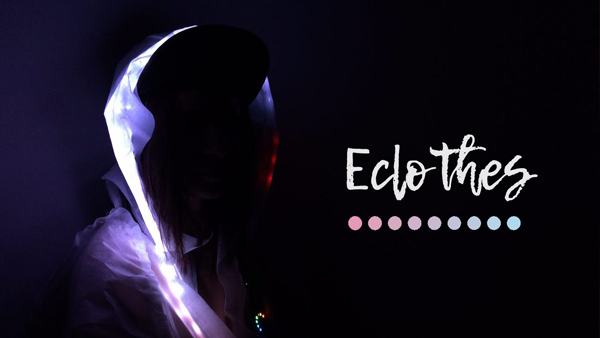 Eclothes is a prototype exploring expressive communication through emotions and the body. Photo: Uliana Kovalenko
We are the E-Clothes team. Our goal is to create unique transformational clothing that is accessible by everyone, with a focus on universal design in fashion.
We started with the abstract and lovely idea of creating emotional language. Emotion is the universal language that we all share. But in our modern society, it is hidden and something we often don't pay attention to. With the E-Clothes concept, we have come up with a wearable prototype for a jacket that displays your mood by changing colors in gradients! This prototype has inspired us a lot. However, when we started to develop our project, we faced a problem, which was universality. We started to wonder how to make such an item that would suit anybody. The question stuck with us as we quickly produced our first prototype – a transforming wearable that could be interchanged between persons with a wheelchair and those without. This is awesome source of inspiration because our coat is not only useful for people with different bodies, but could potentially be suitable for various activities like extreme sports, or simply while while canoeing or fishing.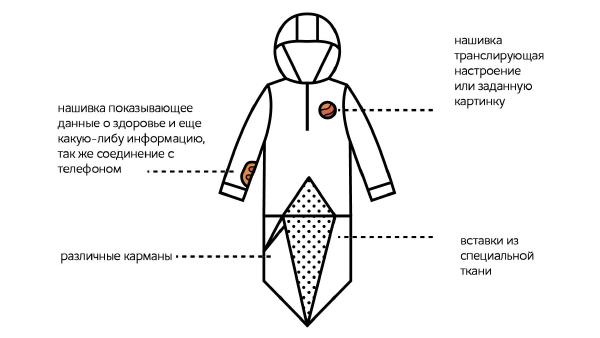 Diagram of prototype. Photo:
Uliana Kovalenko
We found many people gave positive feedback encouraging us to continue the E-Clothes project. For the future of this project, we want to develop a fashion collection consisting of 5 pieces and 3 copies of each item.  We are going to develop our idea with "emotions" and collaborate with a local company which works with neuro-interfaces.  Our future coat will be not only be transformable but also embedded with some sensors that can help people with different needs. In addition, we want to develop a e-stickers that would transmit mood by changing colors or pictures.
We are happy to hear feedback and get support! Thank you!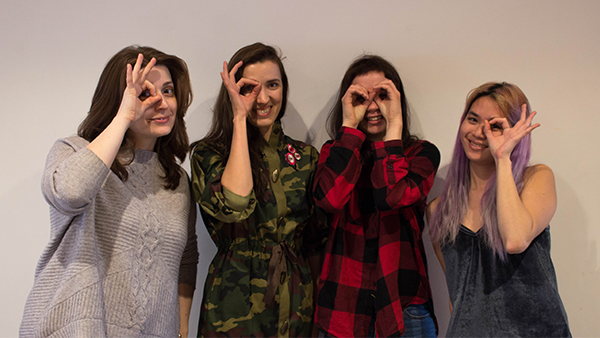 The E-Clothes team:
Jama Abdusalamova (Джамиля Абдусаламова), Irina Turchenko (Ирина Турченко)
and
Uliana Kovalenko (Ульяна Коваленко)
with AAI lead artist Elaine Cheung. Photo: Elaine Cheung
Community Project: Art To Be Open
Art to be Open are prototypes that explore the data around accessibility among cultural insititutions. Photo: Marina Tokareva
In our increasingly social society, everyone should have the right to access public cultural institutions. The Russian state obliges such premises to have "access" certificates and make corresponding reports. However, most institutions do not have their facilities accessible and points towards an underlying problem of symbolic inclusion. Some problematic examples that commonly occur are:
Inaccessible wheelchair ramps that are made too narrow.

Staff at institutions can be unintentionally rude or critical when encountering customers who might have disabilities or sensitivities, without even realizing it.

Poor translation or no translation for those with various disabilities.
Many cultural institutions claim to be "accessible" but few truly provide access to everyone. It is quite an art to be accessible-for-all. One needs to overcome lots of physical and organizational hurdles through creative research and development that improve management of institutional inclusiveness. But first and foremost, one has to leave all stereotypes and prejudices behind and take up an honest way instead of a formal one.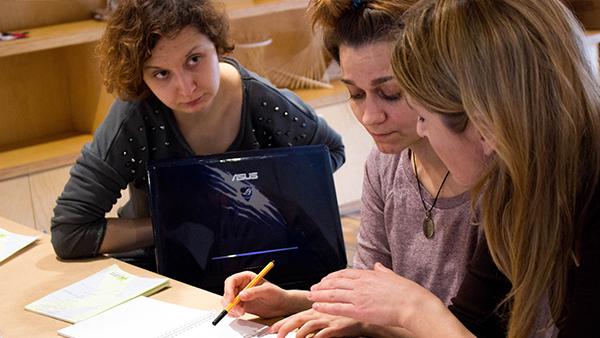 Group working together, asking important questions. Photo: Elaine Cheung
This became our focus for our Arts Incubator project. So moving forward we asked, "how could we present information on the current situation in institutions to people with different abilities to reveal the adaptation level of cultural locations?" The idea to create an "accessible" map has been out there for some time, but unfortunately most of the time the data being taken from institutional certificates turns out to be far from reality. What's more, they often only show architectural access to where an existing lift or ramp can be out of order.
We've designed both a platform and an application, where the main tool is user-generated content. It is a single database showing information on institutions and the services they provide to the disabled, along with the schedule of events and classes they can attend. Every user may add new places and describe them in a short questionnaire. We've also added rating and quick comment option. The first draft of the application prototype can viewed here: https://marvelapp.com/21e01j2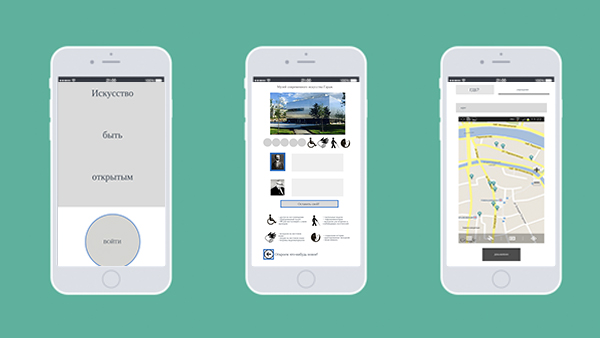 Select menu screens from the first rough draft of application prototype. Photo:
Marina Tokareva
During the workshops, the patients of the Spinal Rehab Centre Predolynie (translation "Overcome") helped us see that the problem of symbolic inclusion really existed and thus inspired our project. During project development, we decided to collect data and look into the matter ourselves. We chose 30 most-visited Moscow museums and asked their staff about inclusiveness.
Our team had connections that helped a lot, and in a couple of days our questionnaires reached all of the museums except one – The Kremlin Chambers. That was the only museum that was not able to submit their data, saying it was impossible without an official request. Others were surprisingly cooperative and honest.
We visualized the data we got in the installation called "Let's Visit A Museum!" where one can see the number of cultural institutional services that are available for various groups of people. You simply press the button of a particular mode on the map of Moscow and see which buildings light up. We also made the installation touch-sensitive and recorded an audio description to make it comprehensible to visitors with poor eyesight.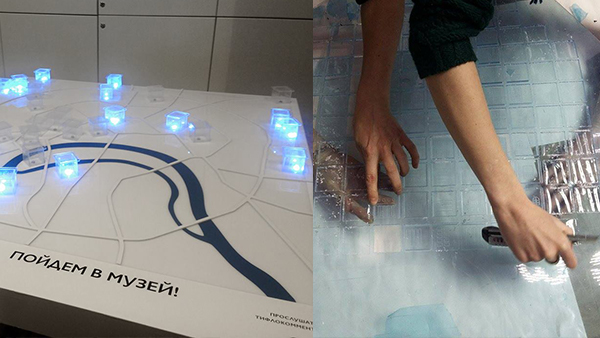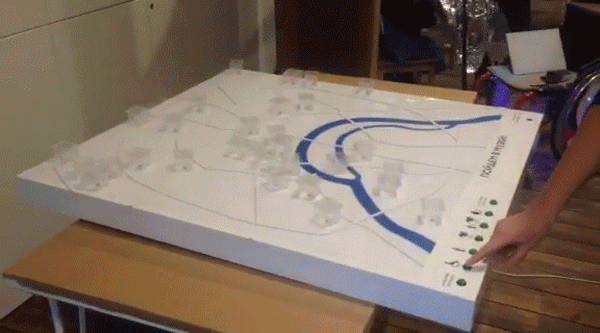 "Let's Visit A Museum" is a data visualization of various aspects of museum's accessibility around Moscow. Photos:
Marina Tokareva
These interesting results can be used by anyone interested in further research: It turns out that just 10% (3 out of 30) are fully accessible museums that can be visited by all persons. We plan to keep developing the project and will eventually launch it formally.
Our next step is to create a better, more deeply researched prototype. To do this we are going to study the target audience and the specifics of various groups by contacting funds and carrying out sociological surveys. After that, we will create the prototype, as well as try to find some sponsorships. The project is extensive, engaging a large chain of stakeholders so we hope someone will see the potential of the social impact and will want to support it.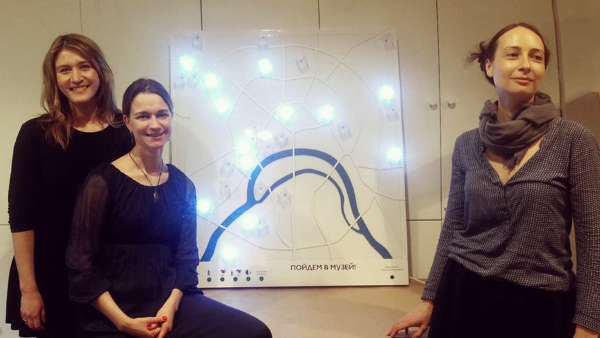 The team members featuring Irina Khamdokhova (Ирина Хамдохова), Marina Tokareva (Марина Токарева) and Olga Korshakova (Ольга Коршакова), including Nika Parkhomovskaya (Ника Пархомовская) and Jana Cheklina (Яна Чеклина) not pictured. Photo: Marina Tokareva
Community Project: The Traveller on a Wheelchair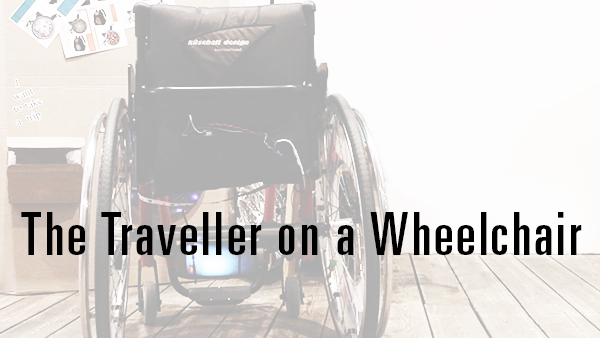 Our wheelchair prototype gives freedom to users. Photo: Elaine Cheung
Our project, "The Traveler in a Wheelchair," is united by a common concept of giving freedom to people who use wheelchairs to travel, both out of necessity and for leisure, and equip them with modern and online services. The project has two main objectives:
To create and adapt existing mechanical, electronic and digital (including Internet) tools to provide wheelchair users with more comfortable conditions.

To create awareness by publishing photo reports of travelers, drawing the attention of different sections of society to the problem of perception of people with disabilities.
Society in mass considers these problems to be medical, insufficiently informed about the social needs of people. Therefore, there is a need to develop communication between different groups in society, to promote modern views on the social perception of people, for various reasons not included in public everyday life. To realize these goals within the limited time frame of the AAI Project Development, we discussed and developed wheelchair devices that allow people who use them not only to move more easily, but also designing ways to achieve their goals in the field of leisure, education, self-development, and sports. We hope to continue this aspect of the project through the photo reports of the travelers.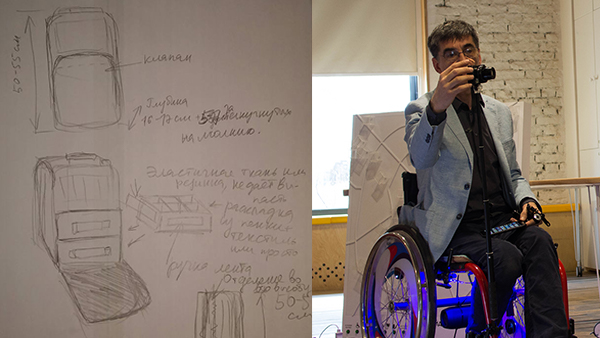 Sketches for backpack (left) and prototype of wheelchair with photography equipment (right). Photo: Elaine Cheung
In our development, the wishes of people on wheelchairs with specific needs were taken into account, lightweight devices were purchased, allowing photographs to be taken by moving in a stroller, after which test specimens of fastenings were made for them. Also, a bag and a backpack were developed, taking into account the arrangement of folding carriages, and also taking into account other needs: illumination inside bags, using solar panels for power generation, and special colored pockets that facilitate navigating the bag for the owner or assistants. Caps designed for strollers are not just decorative elements, but they serve to protect hands from knocks, as well as to protect the spokes from dirt on the street.
When a traveller on a wheelchair is equipped and allowed to live autonomously, that traveller really has many more opportunities. Not just in navigating the terrain, but to do so through art, as a photographer. Participation in the photo project promotes socialization and communication, regardless of the presence or absence of physical characteristics, which can already be considered in inclusion. Added to the fact that the devices help the traveler on the wheelchair to be autonomous, the assistance of other people and their effective involvement in the project is also part of the working towards inclusion in the wider society.
In addition, we have ideas around developing a "Museum Guide" which consists of creating a database of museums, or the existing one is used, and people who like and could talk about exhibits and about these museums are registered there as future guides. The museum can conduct initial behavioral training and confirm cooperation. Each of the guides creates his profile with a description of his personality, interests and level of preparedness for this museum. Thus, a database of guides is created. When a visitor comes to the museum, he goes to the application and finds online guides active at that time. Using the description, he chooses his companion guide and communicates with him via the internet using audio or video communication that guides an excursion. Analogues of applications for finding a companion for a trip to the museum have already appeared in the world, they simply do not yet offer video communication services.
A service like this can attract people whose mobility is limited: they can get remote work, socialization, additional impressions, raise their level of erudition and education, get or develop professional skills in museum activities. Users of this service can choose their own companion at any level, receive help, an individual approach, new acquaintances.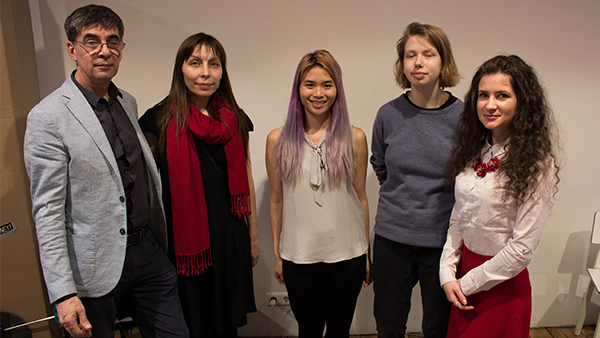 The team members: Ruslan Kurbanov (Руслан Курбанов), Yulia Martuganova (Юлия Мартуганова), Polina Shilkinite (Полина Шилкините), Anna Kuptsova (Анна Купцова), and not pictured is Анастасия Осанкина (Anastasia Osankina), standing with lead artist Elaine Cheung in center. Photo: Elaine Cheung
Community Project: Everydayness (Sensor Quests)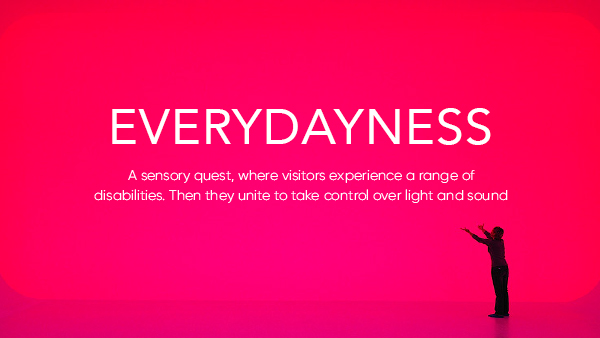 Everydayness is a prototype that explore playful ways of inclusive experiences. Photo: Victor Kudryashov
The team members, Victor Kudryashov (Виктор Кудряшов), Maria Malkova (Мария Малкова), Andronik Khachiyan (Андроник Хачикян) and Mila Machalkina (Мила Мачалкина), explored their idea of "Everydayness" — sensor quests that lets people experience disabilities in an experiential way. A visitor would experience various disabilities across 3 rooms. In the last room, we will unite all the participants where they can use an interactive sensory glove that can change the surroundings in the room itself and socially together. We first introduce guests to the lives of people with disabilities and then create an inclusive experience for people with disabilities and without to join in a fun contemporary technological experience.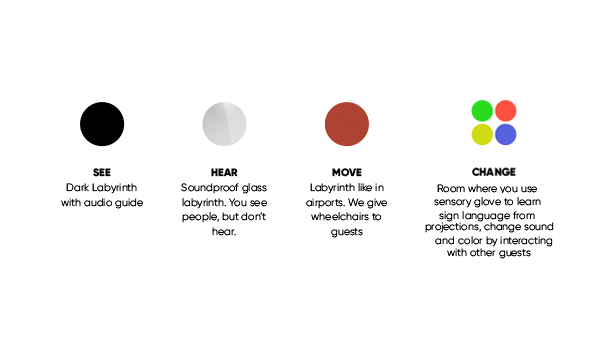 The various rooms of the sensor quests that alter a user's perception and perspective in Everydayness. Photo: Victor Kudryashov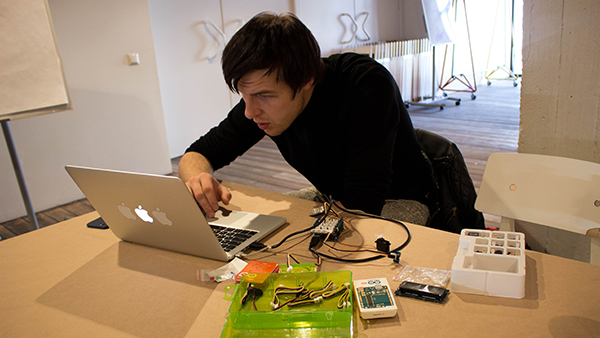 Victor Kudryashov
uses the Arduino microcontroller with TouchDesigner. Photo: Elaine Cheung
We hope to make the quest in a way that can be easily transported or reconstructed in any city. We want to raise awareness about disabilities, let people experience them, start to talk about this important topic and integrate people with disabilities into it.