It's a hot Saturday afternoon and I feel my voice resonate strongly inside my chest while my hearing still recovers from the pressurized cabin of the airplane. I can even hear an echo leaking through the century-old walls of the Negros Museum in Bacolod… Well, the fact is that I'm hyper aware of the space beacuse I'm about to speak to a group of energetic and curious people (around 40 in total) who have come to the museum for the highly anticipated workshops that are part of the AAI program. Things are starting to feel real!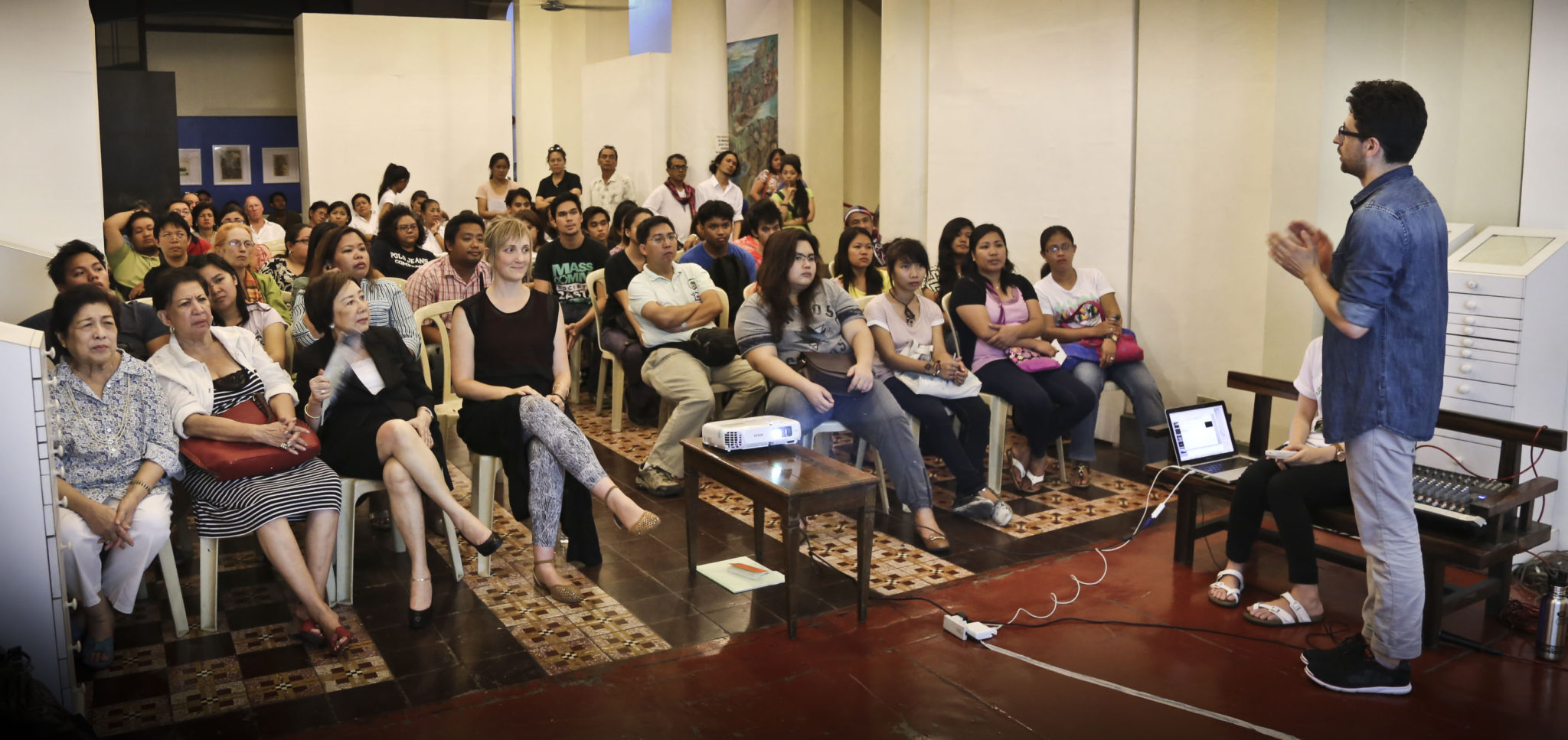 Artist Talk, Negros Museum. Photo: Marc Jabay
This was just our third day in the city and my brain was already full of ideas, questions, and yes, lots and LOTS of new names to remember. Just the night before, I gave a public lecture in the same room, which created a lot of curiosity among local artists, environmentalists and community leaders. The topic of this talk was an intersection between public art, innovation, environmentalism, public space and urbanism. So, I titled this ambitious lecture, Making [Space] Public, because my goal was to explore the links between publics (we, the people that experience) and space (the container of these experiences). This was all filtered through the questions: how do we make something public? How do we form publics? And lastly: What spaces are really public? My mission for the night was to raise questions about how we see the unseen or the borderless. Normally undefined "places' like air, oceans or even vast forests, which, with a little help, could be seen as extensions of our public spaces and maybe protected by "the public." This connection also allowed me to frame the idea of environment not only as green or natural sites, but also our cities and everyday spaces.
During the same talk, I introduced the public art project that I will develop in Bacolod titled, The People's Island, which revolves around the idea that "reality is none other but the things we do together." On the one hand, The People's Island is a metaphorical site, or perhaps a thinking tool that allows workshop participants to create a fictional place that responds to their visions of what their ideal city or environment could look like. Throughout the workshops, participants gathered their concerns about environmental health and re-enacted them through quick, stop-motion animations. They then designed 3D scaled models of a fictive city, as a means to propose sustainable urban planning. This was achieved by transforming small paper sculptures into plans for hybrid objects that use clean energy and have a public function—from street planters that collect solar energy and emit light at night that replace expensive street lighting, to wind banks and a floating, self-sufficient restaurant and garden! All these ideas are slowly shaping a collective vision of a city-environment that local residents deserve, all found inside their own creative power. This is how The People's Island emerges within us—the public.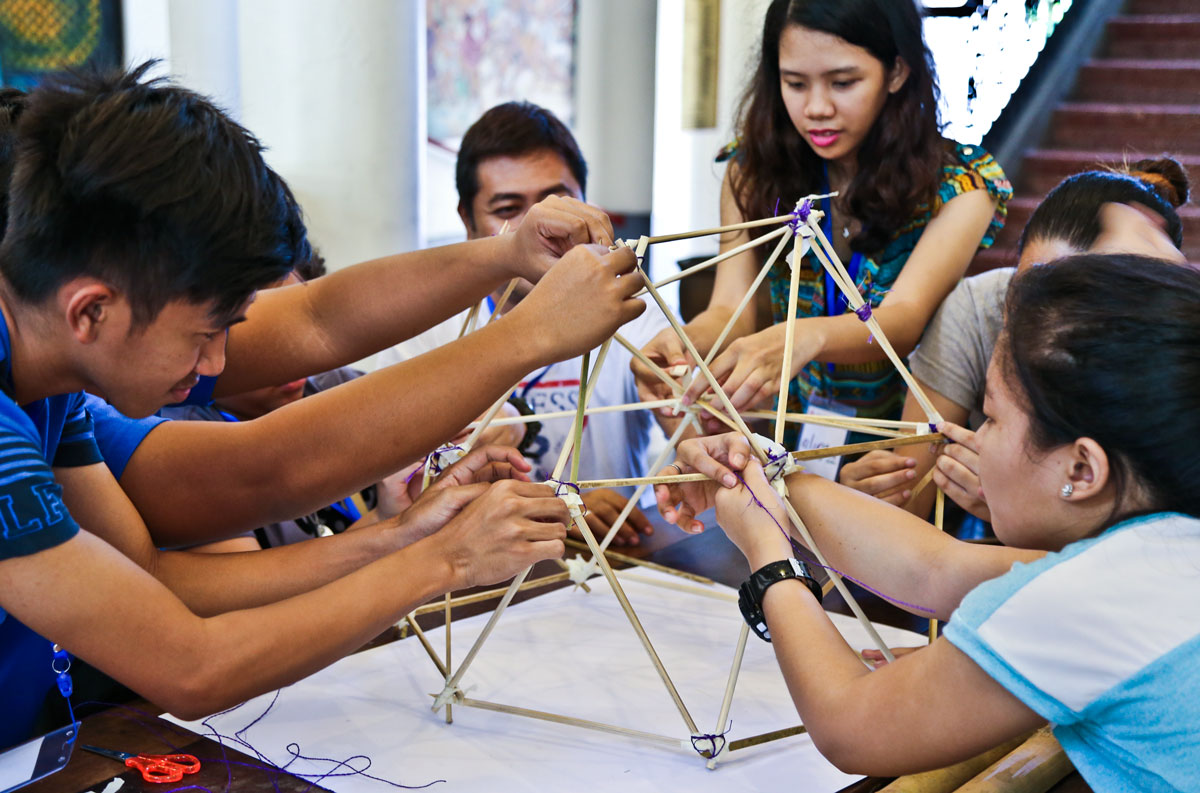 Workshop Participants, Negors Museum. Photo: Marc Jabay
On the other hand, this project is a very tangible effort and has slowly moved from the realm of fiction to reality. Yes, that means that we're making an island! Slowly but surely, The People's Island is becoming a small floating platform composed of a series of rafts joined together (approx. dimensions 10ft x 10ft) made with indigenous materials like bamboo. The principle of The People's Island is to emerge as a temporary land-mass generated by people (literally) gathered together in a specific site, on firm land and in the ocean. On April 25th, the People's Island will be launched during a community event that will gather over one hundred people in a celebration or homage to the bond of this community and the surrounding ocean (or public space). The People's Island will thus become a platform or open stage for performances and sculptural artworks that explore these relations.

Performance: The People's Island, with Meredith Zielke. Photo: Jody Wood.
In the past week, workshop participants worked collaboratively in shaping this new, fluid "land." Through fun, hands-on art and design projects, the group analyzed the possibilities for creating participatory and public art targeted to coastal communities who are often very vulnerable to natural and environmental disasters. As a result of this collaborative exploration, we had a productive dialogue and exchange with the local creative community and environmental groups. This led to four amazing projects from workshop attendees that were selected by The American Arts Incubator Program for a Small Grant Award.
The first of these grants went to Katherine Maguad and Jeffrey Lazaro, who plan to utilize the knowledge and skills from local ceramic artists to create more hygienic stoves and efficient kitchen facilities. These sculptures/prototypes will be used in remote rural areas lacking from running water and electricity, and where children suffer malnutrition and health problems due to food contamination.
The second grant went to Aliana Juson and Keith Cari-An who proposed to create the first Floating Eco-Resource Library Center for the community of Suyac Island. Their goal is to create a multifunctional floating platform for community engagement, supporting literacy programs for children, workshops on ecology and waste management, all through participatory and performance art.
The third grant went to Edmund Bacia and Peter Fantinalgo from the art collective, Binhi. Their idea is to produce a short video documentary around a song called "Hangin" (in English: Air), which was composed by Dina, a young artist from the underserved community of Banago. Dina passed away last year due to a deadly cancer that was caused in part by the water contamination affecting this area of the city, which is especially harmful to children and youth.
And finally, the fourth grant was awarded to BALAYAN Organization, a group of environmentalists from La Salle University. Their plan is to use participatory art and experimental pedagogy to increasing community resilience to disasters in areas neighboring the ocean, which are the most vulnerable during the typhoon season.
American Arts Incubator Program, Small Grants Panel Review. Negros Museum, Bacolod City, Philippines. Photo: Marc Jabay, April 18th, 2015
As I write this, I prepare myself for a super busy but exciting week. We plan to celebrate Earth Day with a pre-launching of The People's Island in the artificial lagoon in front of the local government building. Day after day, we encounter many challenges but also find creative solutions to keep the energy going, because in the end, we're all listening with objective curiosity (as Kate, Program Manager for the American Arts Incubator, often says).