My month-long American Arts Incubator workshop in Cambodia focused on new media and global challenges. The question posed to participants was, "How can environmental health be supported by new media art projects?" Throughout the workshop we experimented with 360 virtual reality and augmented reality as storytelling tools. We talked about using art to engage communities and promote innovations that could lead us on a path to an environmentally sustainable future.
The culmination of the workshop was a new media exhibition at Bophana Center in Phnom Penh from May 17 to June 16, 2017. We had an enormously successful opening reception with guests and panelists from the U.S. Embassy at Phnom Penh and organizations like Development Innovations and Eco Life Cambodia.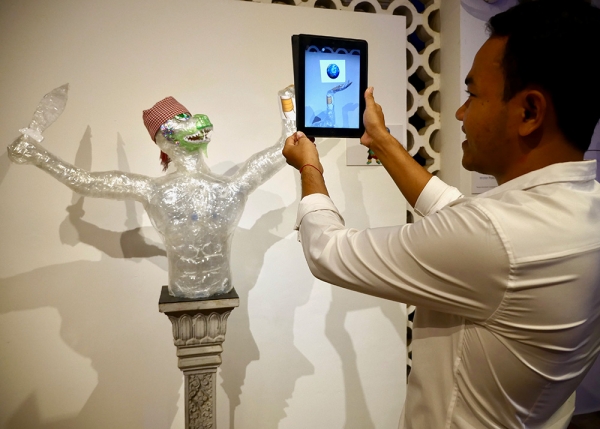 A Hanuman scupture built by the Plastic Commune team triggers an augmented reality image of the earth carried in his hand. Photo: Anula Shetty.
The four community artist teams worked hard to put together this fantastic new media art exhibition, which was the first of its kind in Phnom Penh (according to folks who attended the opening reception!). Audiences were enthralled by the inventive uses of new media — from a VR documentary bringing you right into a family's living space on a floating house to augmented reality triggers on a mythical mermaid goddess that made objects in the frame disappear. It was exciting to watch people interact with all the VR/AR projects and engage in discussions about the environmental issues that the projects tackled. We couldn't have hoped for a better opening night.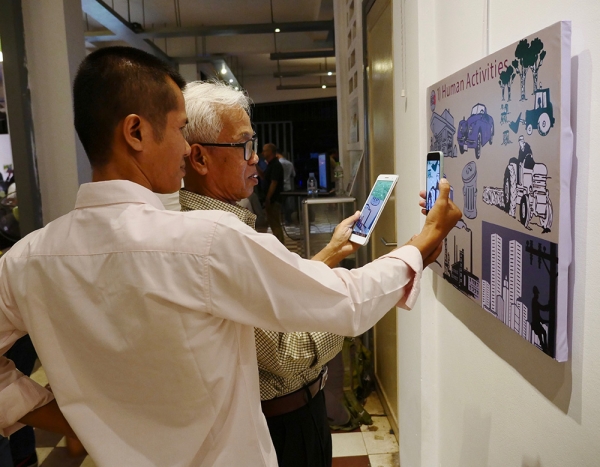 Using augmented reality to uncover details about the causes of global warming. Photo: Anula Shetty.
In keeping with the theme of environmental sustainability, the project installations were powered by a 260-watt solar panel that we installed at Bophana Center at the start of the workshop. Low power devices such as 13-watt fans, 11-watt HDTV monitors, and LED projectors were in play during the exhibit – and they all used the power of the sun!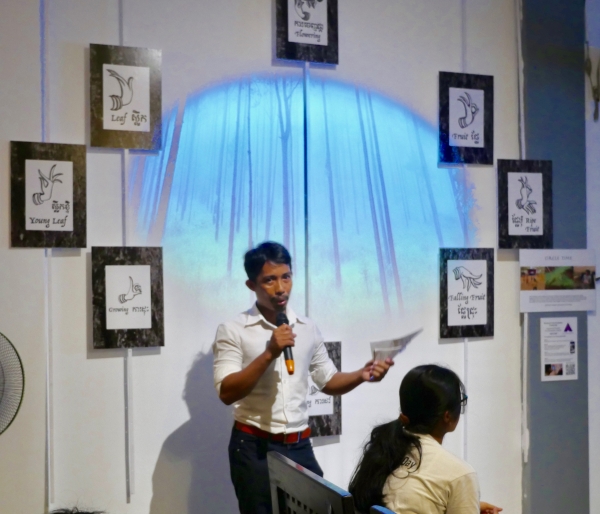 Sophea Chea, Deputy Director of Bophana Center, provides feedback to the artist teams in front of "Circle Time." Photo: Anula Shetty
As lead artist for American Arts Incubator — Cambodia, I also premiered a new augmented reality installation "Circle Time" in collaboration with artist Anula Shetty. This installation uses hand gestures from classical Cambodian dance as triggers for a series of documentary videos exploring the new environmental/recycling-focused "Coconut School" being built in the Kirirom Forest. The participants were excited to see that there was a fifth artist team and were helpful as we all worked together in the mounting and installation.
All in all, the technology and internet cooperated throughout exhibition which created a real sense of accomplishment for all artist participants.