I have been invited by the U.S. Consulate in Wuhan, in partnership with the K11 Art Foundation to spend 28 days in Wuhan, China where I will engage and empower youth by building a portal to an alternative reality. Based on traditional Chinese timber carpentry techniques, the physical structure will act as an access point where the public will be able to immerse themselves in virtual reality (VR) and augmented reality (AR) experiences documenting the rapidly changing city.
I will assemble and train production teams made up of faculty and students from the Hubei Institute of Fine Arts, Central China Normal University, and the Wuhan Textile University to engage the local community to determine in which parts of the city we will create VR and AR work. Other potential partners include China Endangered Culture Protector, Hubei Museum of Art, Wuhan Art Museum and the studio of local artist Cai Kai.
The City of Wuhan
Wuhan is a city of over 10 million people locate in central China's Hubei Province at the confluence of the Yangtze and Han Rivers. The city is consolidated from three traditional walled cities: Wuchang to the east of the Yangtze, and to the west, Hankou north of the Han and Hanyang to the south of the Han. With a more ancient history than Beijing, Xi'an, and Nanjing, the three cities date from before AD 223.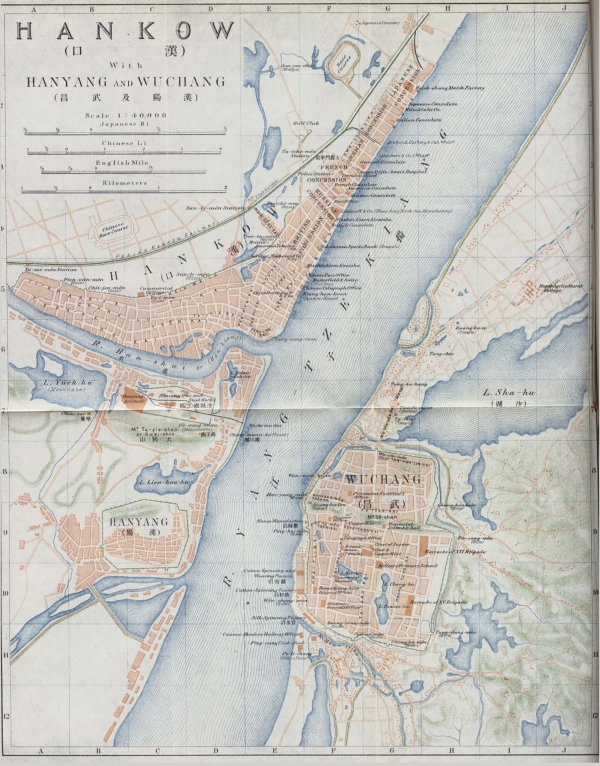 A
map
from 1915 of Hankou 
(with the five foreign concessions), Hanyang, and Wuchang.
During the Second Opium War (1856–1860), the Qing Dynasty was defeated by western powers, which led to the founding of foreign concessions along the banks of the Yangtze in Hankou. In 1911, the rebellion that ended dynastic rule and led to the founding of the Republic of China was launched from Wuchang. The city was occupied by Japanese forces during the Second World War and largely destroyed by U.S. firebombing in December of 1944.
Considered one of the fastest changing cities in China, Wuhan just might be the fastest changing city in the world. Choked by Tortoise Hill in Hanyang and Snake Hill in Wuchang, the Yangtze has a history of unleashing devastating floods in Wuhan, which was an important factor in the building of the Three Gorges Dam, 335 mile upstream, and the recurrence of Dragon King mythology.
Site Visit and Planning Meetings: November 27, 2015
On my first day in Wuhan I was met by Jamie Dragon, Public Affairs Officer from the U.S. Consulate General in Wuhan, Bu Shi, Assistant Manager of Arts Projects at K11 Art Foundation (our AAI program partner in Wuhan), and Officer of Arts Projects at K11, Zhang Heer. We all walked over to Zhongshan Park to look for some test augments I had placed there before I left for China.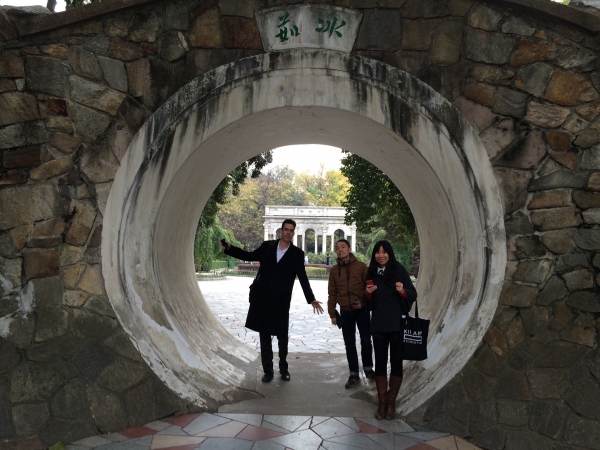 Jamie Dragon, Bu Shi, and Zhang Heer, in search of portals in Zhongshan Park.