We just wrapped our Community Panel Review and, wow, I can't believe this… I was worried we wouldn't have enough interest, but instead of four proposals we had six! The house was packed with community members and artists. The panelists were so thrilled today to hear the proposals for the creative community projects, each proposing to highlight the issue of LGBTQ visibility and equality in Vietnam in a unique way. Much gratitude to our partners Nhà Sàn Collective and U.S. Embassy in Hanoi, the Exchange Programs – U.S. Department of State and ZERO1 for creating such a successful event. Thank you to our amazing panelists Clayton Bond, Nguyễn Quốc Thành, Truong Que Chi, and Tran Phuong Thao for such insightful feedback for the artists. Extra special thank yous to our producer Linh Phan and Production Assistant Maia Do for making it all happen! And to the translators facilitating mutual understanding — not always an easy task. Super loud shout out to our fabulous photographer Yen Nguyen for documenting the afternoon. I can't wait to see all the projects come into being, and to share the experience of LGBTQ life in Vietnam at our Aprill 22nd exhibition at Nha San Collective.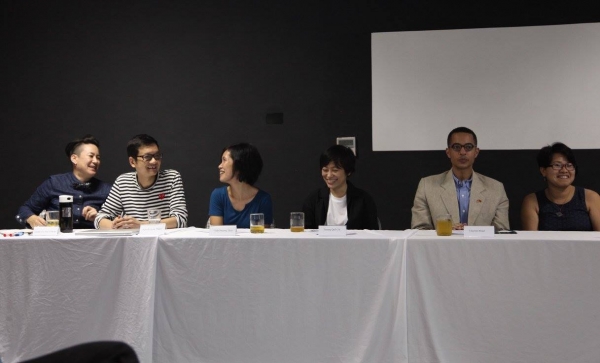 Community Panel reviews the project pitches. Photo by Yen Nguyen.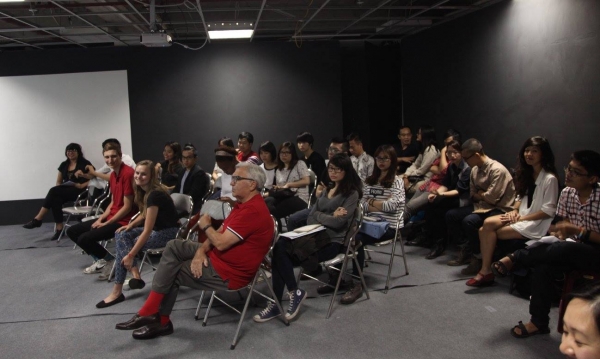 A full house. Literally every chair was filled. Photo by Yen Nguyen.
More photos of the panel can be seen in this Facebook album.
Here are the community artists who will be working hard in the next two weeks to highlight the visibility of LGBTQ community in Vietnam.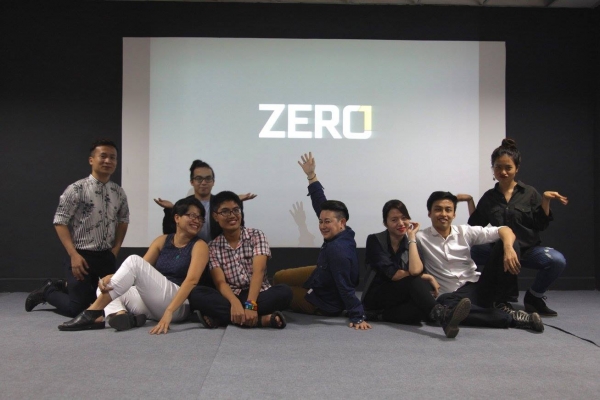 Community artists selected by the Community panel for small grants. Photo by Yen Nguyen.
Meet our community artists and their projects: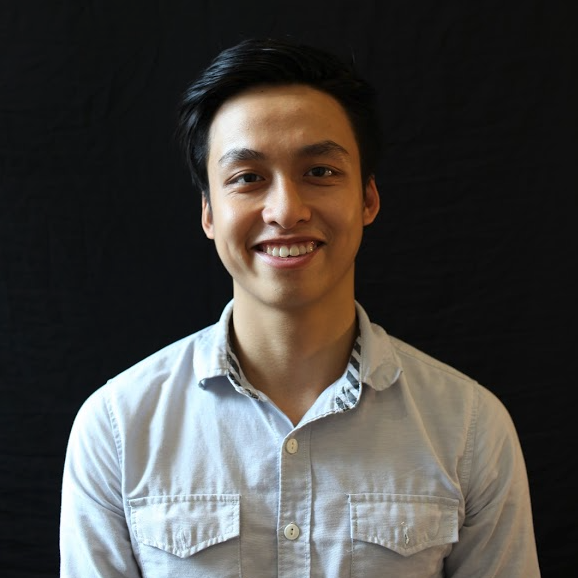 Bùi Hoàng Long. Photy by Yen Nguyen.
Bùi Hoàng Long
Hoang Long is an independent filmmaker and a photographer who has a keen interest in community engagement projects. He has over 2 years of experience working as a social worker helping street children and the homeless in Hanoi. His works revolve around the lives of vulnerable people in the society with the desire to give them a voice.
Bùi Hoàng Long's project "HANOI LOVE" shares beautiful messages about LGBTQ love in Hanoi. And just like any other types of love, it has its own distinct qualities.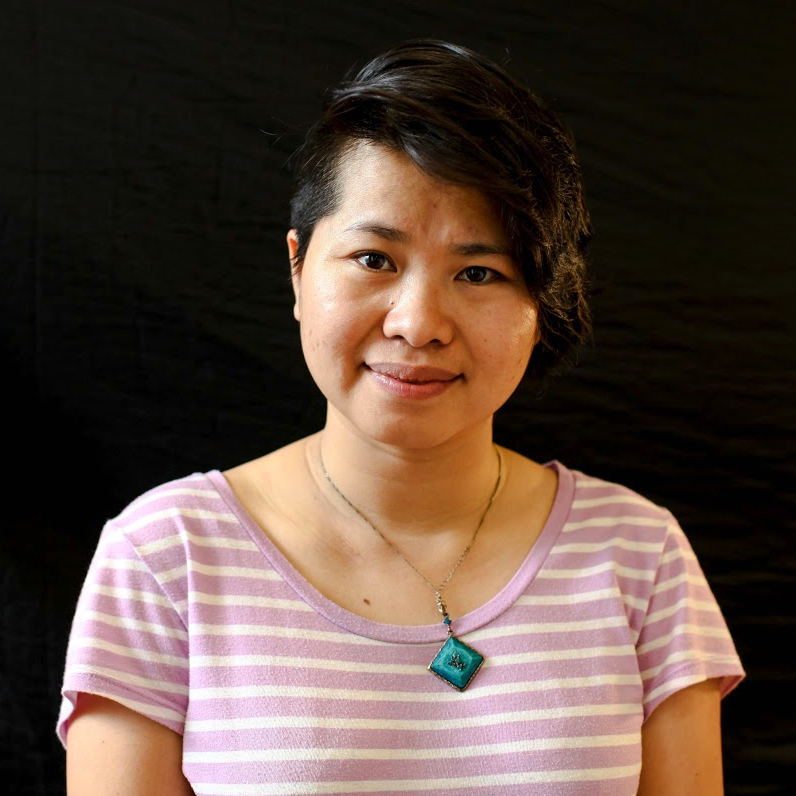 Đinh Nhung. Photo by Yen Nguyen.
Đinh Nhung
Nhung Dinh graduated from Clark University, USA in 2013 with a master degree in International Development for Social Change, is one of the main curators and organizers of the "Unstraight" exhibitions in Vietnam, "The Cabinet" (Hanoi of March 2015), and "Love, Pain and History" (Saigon, April 2011). In 2015, Nhung was a consultant of several projects including collecting stories and making an online queer archive in Vietnam, as well as LGBTQ exhibitions and archive projects in Cambodia, Serbia, and Russia. She collected stories of transgender people's livelihood options and HIV risks in Vietnam in September 2015.
One of Nhung's story-collecting methods, which she has been using consistently since 2010, is to invite communities to create art works inspired by their life experiences and tell their stories that relate to sexuality and violence as well as several taboo and sensitive topics. Currently she leads a Vagina Talks project and is working on a Vietnamese queer lexicon.
Đinh Thị Nhung's project "Vừa đi vừa kể // Roadside Stories" creates a map of queer space, time, and feelings. This is a part of her ongoing project of archiving queer culture in Vietnam.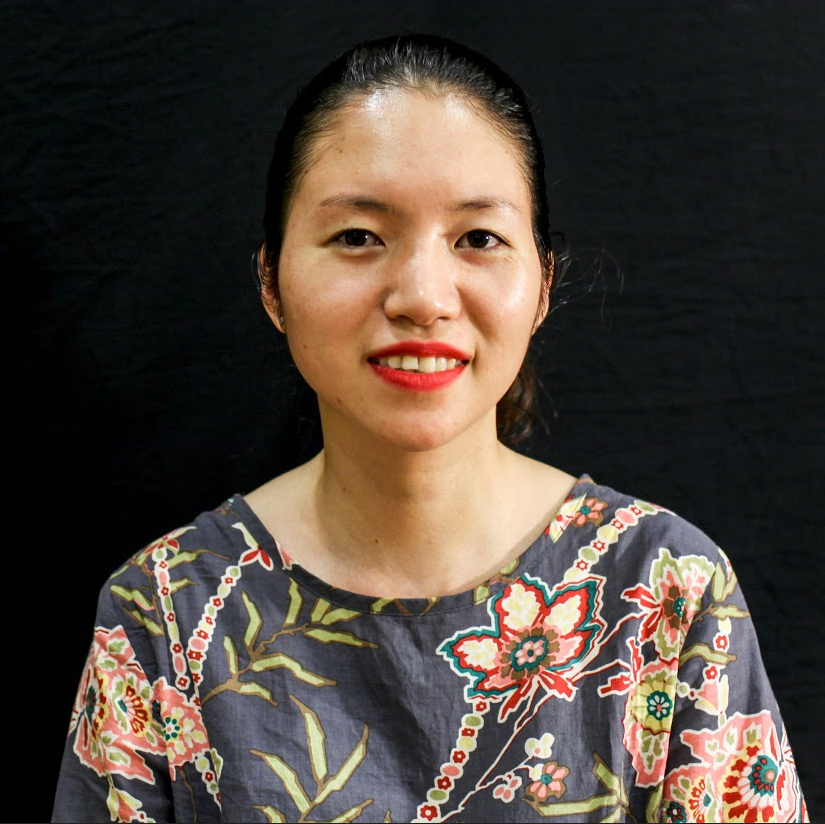 Vũ Kiều Oanh. Photo by Yen Nguyen.
Vũ Kiều Oanh
Oanh Kieu, based in Hanoi, is interested in the culture of the LGBT community, sexual health, and Mother goddess religion. In 2012, she made an over 2,000km cycling trip across Vietnam to bring a message of support for LGBT community. She is a founding member of 6+ (six plus) – an independent organization that connects the LGBT community and supports their health. She holds meetings to share knowledge about sexual diversity at universities and organizations. She also provides psychological counseling for LGBT people and PFLAG. She is a mentor of one of their programs to develop the leadership capacity of young LGBT people and activities in the other regions. From 2013 to date, she has been a core member of the organizing committee of VietPride – the largest pride festival for the LGBT community in Vietnam.
Shelter for LGBTQ:
Vũ Kiều Oanh and Group 6+ are inviting members of the LGBTQ community to share their experiences, points of view and desires, to expand the safe queer universe of their project "Vùng an toàn rộng mở – Shelter for LGBTQ". In that shelter, voices are heard and stories of abuse, prejudice, and love are waiting to be shared.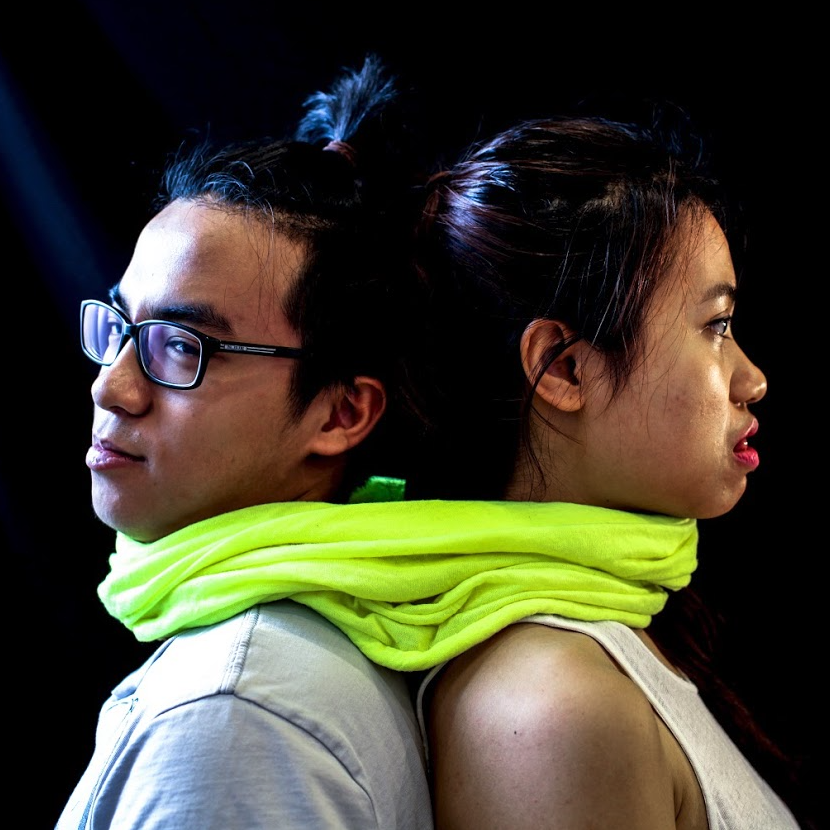 Ian Quee and Quyên Nguyễn. Photo by Yen Nguyen.
Ian Quee and Quyên Nguyễn
Quyên Quyên and Ian Quee met at an LGBTQ visibility workshop in Hanoi and decided to make a zine together. It's a collection of comics, poetry, low-key art and film reviews. The first issue is titled Ế/Unsold and deals with gender and identity questions/thoughts/jokes.
Ian Quee is trained in the science of psychology. In reality, it's part of his scheme of becoming a better artist.
Quyên Quyên studies a mixed bag of literature and art history at Stanford University.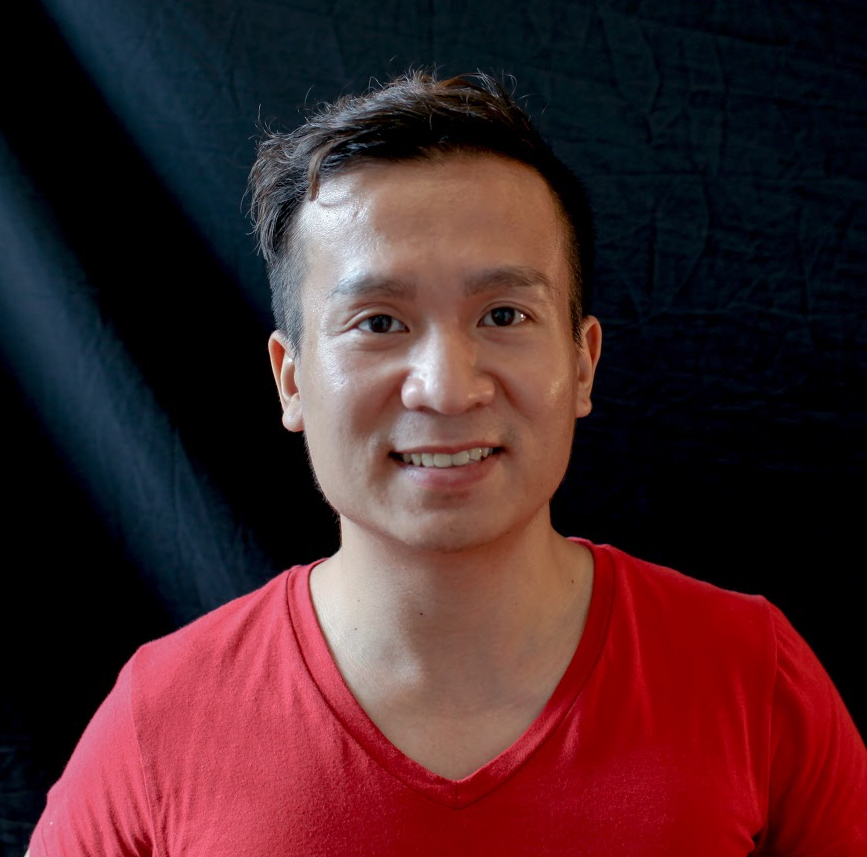 Nguyễn Quang Duy. Photo by Yen Nguyen.
Nguyễn Quang Duy
Quang Duy is 30 years old and holds a Bachelor's Degree in Economics. With his project called "VNLGBTQ247" he is looking to maximize the visibility of the LGBTQ community all over Hanoi as well as the rest of Vietnam. By inviting people to participate in taking photos, checking in on Instagram, and sharing posts on Facebook using hashtag #VNLGBTQ247, he intends to provide society with a better and closer look at the life of the LGBTQ community.
Nguyễn Quang Duy is launching a social media project. The project titled "#vnlgbtq247" will fill their Facebook page with images depicting everyday life of LGBTQ people with the hashtag #VNLGBTQ247.
https://www.facebook.com/VNlbgtq247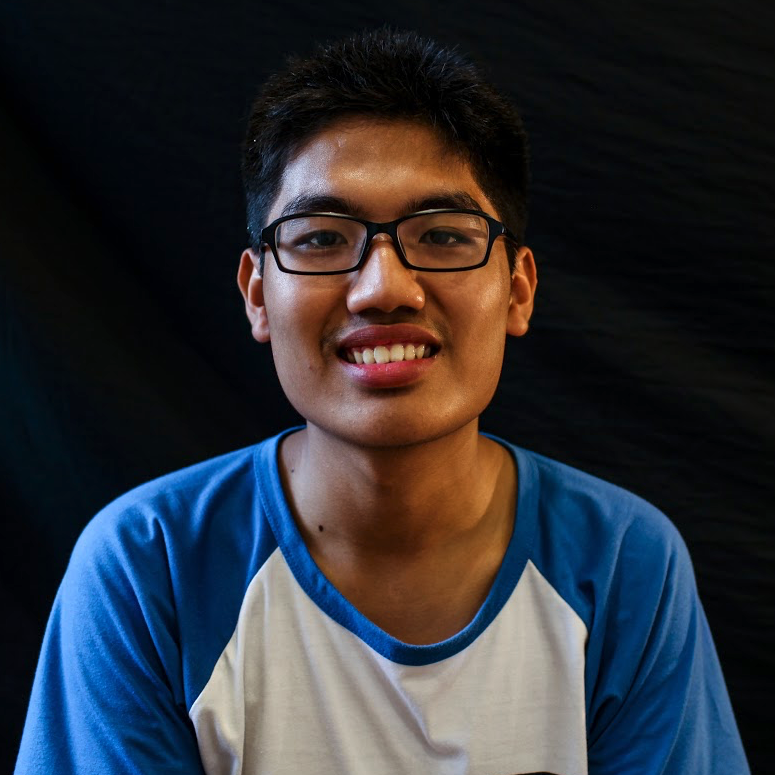 Lê Đức Anh. Photo by Yen Nguyen.
Lê Đức Anh
Le Duc Anh is currently a student at Hanoi University of Social Sciences and Humanities. His project "Touched by the Rainbow" is an action campaign to maximize the visibility of the LGBTQ community in Hanoi through Instagram. By showing short video clips made by members of the community, we hope to eliminate prejudice and homophobia.
Lê Đức Anh's social media project "Touched by the Rainbow // Điểm chạm cầu vồng" records the LGBTQ landscape with short video clips made by members of the LGBTQ community that are then posted on Instagram and Facebook with the hashtag #diemchoncaucong
https://www.facebook.com/diemchamcauvong