I write this from the plane en route to Hanoi to kick off the Vietnam Arts Incubator program. As with all pre-production, just when you think you have everything together, some things fall apart. I have the most amazing producer on the ground handling the details, like securing translators, a production assistant, a director of photography, and location scouting. Some things fell apart before I got on the plane but, when I land, I know everything will all fall together.
My carry-on handbag is full of electronics — iPads, tablets, iPhones, Androids, and a couple Kindles. I spent the past few days driving around Los Angeles trading 2 gallons of homemade kombucha, sea salt caramels, and my goodwill for the use of these electronics for our exhibition at Nha San Collective at the end of the month.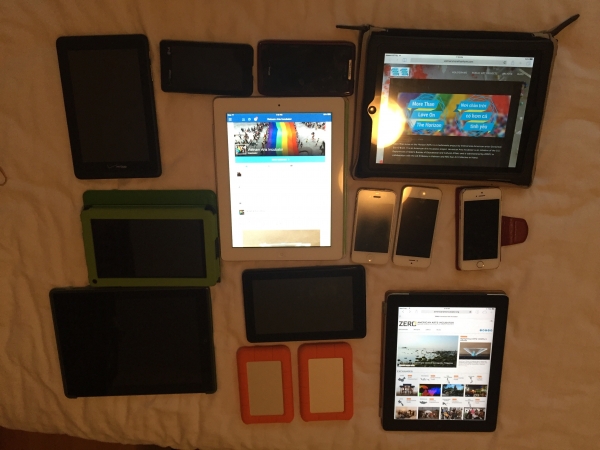 Electronics, 2016. Photo by G. E. O'Brien.
I'm excited to put these to use in the exhibition as displays for the holograms we will create. Gallery visitors also will be able to pull up the hologram videos on their own devices from our website. The DIY hologram projectors convert smartphones and tablets into mini hologram projectors, making visible the Vietnamese LGBTQ community in Hanoi.
Before I left Los Angeles, I prototyped a smaller, lighter DIY hologram projector for the project. These new prototypes are made with overhead transparency paper and can be cut more precisely and faster using scissors instead fighting the CD case plastic with an exacto blade. This new DIY hologram projector is lighter, pliable, and portable and can be made in less than 5 minutes.
DIY hologram projector instructional video, 2016. Photo by G. E. O'Brien.
As soon as I touch down, I will have to start running. The enthusiasm for the Vietnam Arts Incubator project has been demonstrable. I'm beside myself knowing that there are over 40 LGBTQ participants registered for the workshops I will be facilitating. Glancing through the registrations there are gays, lesbians, queer identified, and a few transgender participants. I'm learning new terms and surprised how many folks identify as queer.
Gay – Đồng tính nam
Lesbian – Đồng tính nữ
Bisexual – Song tính
Transgender – Người chuyển giới
Queer – Queer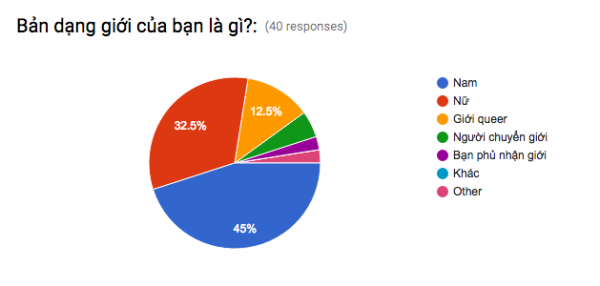 Workshop participant response to a question about how they identify.
I am hoping that the workshops will be not only engaging and transformative for the participants but also generative. Out of this week of workshops, participants will develop projects that creatively engage LGBTQ visibility and equality in Vietnam using a digital media platform. Four of these proposals will be the recipients of small grants to carry out their own projects.
Meanwhile, I will be filming participants and community members to create holograms. We have to do this all very quickly because, as it turns out, in order to put all the work in the April 22nd exhibition we have to get all the finished projects submitted to government censors a week before they're made public.
Update: I have landed in Hanoi and would you believe, unbeknownst to me, the apartment we are staying at is called "Rainbow Building." Serendipity!