"Smoking in the lavatories and chewing betel nuts are strictly prohibited," was what I heard over the PA system as Kate, the program manager for the American Arts Incubator and I took our seats on the Air Niugini flight in Sydney. That's when I knew that Papua New Guinea was fast approaching. Finally! This was the last leg of delays, missed connections to rerouting, lost then found luggage, disappearing bookings to repurchasing tickets, and a lovely 24-hour layover in Sydney.  The smiling stewardess on the monitor in front of me seems to say, "relax you are almost there!" which brought me a bit of comfort.
Having never been to PNG before, I didn't know what to expect. So, when I was jolted awake from deep sleep by the rough landing, I strained to catch glimpses out the windows from my isle seat. I saw a thick, lush, green and hilly landscape peppered with dirt roads and houses outlined by beach and ocean. For a split second I thought I had landed in St. Lucia, my birthplace. All these islands look alike but the similarities didn't end there.
The relaxed, no rush attitude famously coined as "Island Time" was evident when the two attendants manning the Visa Upon Arrival counter finally sauntered to their posts after observing the growing line from a distance. Their calm and friendly demeanor was infectious and served as a reminder to slow down and leave the stress behind. Bobby McFerrin's, "Don't Worry, Be Happy" came to mind. All that, however, was shortlived as we took in the atmosphere from the window of the van through our jet lagged eyes.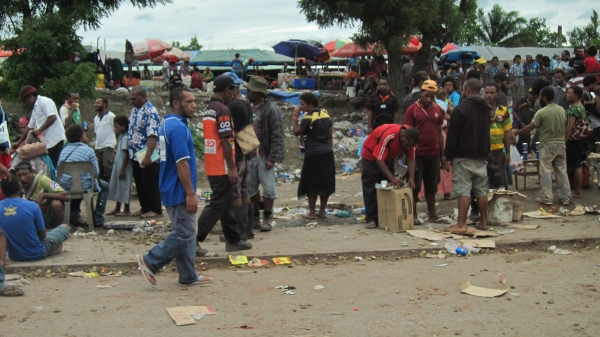 People in the streets of Papua New Guinea. Image courtesy of the artist.
We saw people going about their daily lives along the mango and banana tree-lined streets between the airport and our hotel. As safety is of the utmost importance for our wellbeing, it seemed to be all doom and gloom as we were briefed on the Do-Nots while in PNG. "No getting into cabs or public transportation" and "no walking around alone in certain areas," are just two examples as car-jacking and violent robbery are commonplace. There are gates around everything, even our hotel, reinforcing the need for a high level of security, not to mention an official security briefing planned by the regional security officer on our second day. This will be more challenging than expected to navigate, but I'm hopeful our participation in the Women's Forum will help us begin to make meaningful personal connections.
Then there are the people. The few locals that we interacted with – the waitress at the restaurant and the people at the reception desk at the hotel – were beautiful, soft-spoken and friendly. Not in the I-am-friendly-because-I-work-in-hospitality way, but genuinely friendly. They were very nice and open to answering personal questions from a couple of inquisitive Americans and more than happy to share the nuances of the many languages and cultures that make up PNG. We were even taught a few phrases in pidgin – Nem bilong mi Kendal; My name is Kendal. That alone made up for all the negatives and was a great way to end my first few hours in PNG.
Oh yeah…I googled betel nuts.