What an exhilarating and whirlwind of a month in Istanbul! 16 participants (across a wide range of disciplines) and I explored gender equity and women's empowerment through participatory design, movement, writing, drawing, skill-building workshops employing different technologies, professional development, and group project development. The month culminated in a spectacular open house and panel review to showcase prototypes we developed together in under ten days. Below, I capture some of the colorful details of the experience…
When I first arrived to Istanbul, it was a rainy day, and the traffic was intense. It took nearly two hours to get over the Bosphorus, passing many billboards with candidates' faces along the highway. When we finally arrived to Ataşehir, the driver was completely lost amidst the futuristic construction sites of the up-and-coming area where the DasDas Theater and InogarArt is located. It might have been my sleep-deprived state, but the high-rise where I was eventually deposited reminded me of Soylent Green, and was a puzzle to get in.
I woke at dawn to the sound of a loudspeaker calling people to prayer. Starving, I peered out my window to see if any store lights were on before I ventured out bleary-eyed to grab a proper Turkish breakfast. I found one restaurant open with a colorful polka-dot décor, mirrors placed every which way, serving spicy sausage, eggs, and bread.
Restored, I popped into DasDas Theater to meet with my host organization, InogarArt. I was greeted warmly by my amazing team, Esra, Dila, Ayca, and Dodo. We shared some pizza (I didn't mention I had just ate) and chatted about digital art, materials I needed for the workshops, and they gave me a tour of their beautiful new space. What a gift to be the inaugural project in this incredible facility!
The next day, Senay (my point of contact at the U.S. Consulate) picked me up in a taxi bright and early, and we headed over to the consulate, which was a foreboding building with a mausoleum vibe. We had a lovely talk about the power of pop culture to transform hearts and minds, her time living in New York City, and she introduced me to my first Turkish tea.
We then discussed the logistics for the upcoming artist talk and the program run-down with the founders of InogarArt as well as Keavy and Stephanie from the consulate team, while nibbling on some delicious sweets, and of course, more tea. I also met Ezgi, my amazing translator. We went over my presentation (which I discovered might be slightly controversial given my views on immigration), but freedom of expression was encouraged.
The following day, I gave the artist talk in call-and-response style. I shared some of my past social justice work along with my current networked theatre and dance projects, which was followed by a reception with some delicious tapas prepared by an organization that supports refugee resettlement. I also met many of the participants, who appeared very shy, yet excited about the program.
The next morning, we kicked off the workshops after sharing breakfast (Menemen) together informally.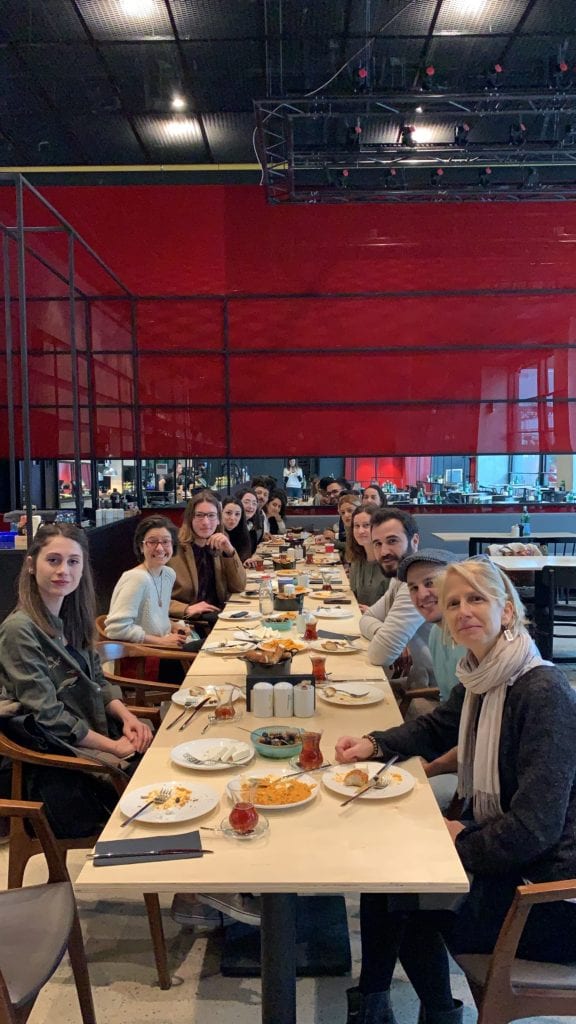 During the first workshop, I started with some ice-breakers and the "5 Whys" to create an intimate and safe space, and I took the participants through a participatory design practice I invented called "play as process" which allowed us to map the social challenge to an art, technology and performance project, to better balance message with engagement.
The process moved participants from the rational to the emotional, then onward to the visual, spatial, and temporal unpacking of the social challenge through systems thinking. In the final stage, participants applied all the accrued knowledge and documentation from the first three stages to the design of a paper and physical prototype.
During the process, participants identified and humanized their target audiences, defined the core values, problems, solutions, and actions associated with gender equity & women's empowerment, then translated it into a simple narrative with characters and a clear message frame.
Next, through four discrete "imprinting sessions" drawn from French psychologist Clotaire Rapaille, they deconstructed the "culture code" of their issue, which allowed them to see the inherent resistance and challenges in communicating their issue.
Then, they explored mapping, diagramming, and cataloging their issue to begin visualizing the causal systems at play in their issues. With these three prismatic ways of looking at the social challenge, participants possessed all the ingredients for designing an experience using art, technology, and performance.
In addition, I also gave them an overview of the history of art, technology, and performance, and we examined case studies of contemporary projects to build a toolbox of technologies, UX/UI mechanics, and narrative strategies we could use for our concepts.
During the second workshop, I took the group through a multi-modal movement exercise, which involved a series of movement prompts, starting with reconnecting with our own bodies, then doing paired work, and eventually examining the whole ecosystem. The movement exercises were interspersed with drawing and writing exercises, which were intended to locate where our personal relationship to gender equity and women's empowerment lives in our bodies, and to transform the script. At the end of the day, each participant gave a micro-performance based on their individual relationship to the social challenge.
During the third and fourth workshops, participants were asked to bring personal objects that connected to the issue. We then used these as a starting point for stories, which were recorded and edited. We took 360° photographs of the objects, and brought them into a photogrammetry software to generate a digital 3D model for printing. Next, we moved onto building custom electronics with microcontrollers and sensors to create a "storied object" which triggered the narrative through touch.
During the fifth workshop, I provided the participants with professional development training. I guided them through the process of writing a design document (a standard in the field) and developing a pitch deck. We used these to formulate a proposal and budget. At the end of the session, participants practiced pitching their projects in preparation for the public panel review.
The following day, I met with each of the four teams for 45-60 minutes to map out their technology spec and implementation plan for the remaining 10-day prototyping phase, and assigned tasks to group members. This is when I discovered there were significant skills gaps.
To address this, I met again with each team at SALT (following our field trip to learn about the archive) and elsewhere to enable participants to fully realize their projects by doing individual demos on specific technology.
For example, Group 4 needed to use Unity, a game engine and Microsoft Kinect, so I went over these tools. Group 3 needed a system for generating augmented reality, so I taught them how to create markers and targets using Vuforia. Group 1 wanted to use motion capture technology, so we had a night where we captured movements inside Notch and went over the pipeline for re-targeting to a 3D model, and Group 2 wanted to use IMU data to trigger sound and visuals, so we revisited how to solder and connect various sensors, firmware and deconstructed examples of Arduino & Processing sketches.
And then they were off. During the weekend and following week, I held office hours to tackle specific areas in which each group was stuck, and we went full-force into developing, troubleshooting tech, and installing physical structures in the DasDas Theater. I played a larger role in supporting the development process than I envisioned. And we stayed up until 3 a.m. many nights for the final push. But we pulled it off — the open house and panel review were a huge success!
I was incredibly proud of how much the participants accomplished in a short period of time, considering they possessed little to no technology skills coming in, and they learned in the process of doing. Each night as I walked down the dark steps towards my apartment, I had that positive-productive exhausted sensation.
I was equally surprised that while I had consciously shaped the workshop process around performance, none of the projects evolved into a performance, though I would argue that each work positioned the audience as the performer, and their body as essential to the experience. I also found it fascinating to see how each project was uniquely informed by the interdisciplinary mix of the group.
More information about each of the projects can be found on the AAI Turkey exchange page.
After the opening, where both the public and panelists were able to experience each of the four prototypes, we ushered everyone into the large theater at DasDas for a panel review where the participants pitched the full vision of their projects to an esteemed cross-sector panel of judges: Ahmet Kenan Bilgiç: musician, composer & producer; Melih Akdoğan: GM of D-Park, a tech incubator; Sanem Oktar: serial entrepreneur; Sertaç Taşdelen: founder of tech startup; Şengül Akçar: founder of KEDV (Foundation for the Support of Women's Work); and Duygu Şengünler: co-curator of the Istanbul Biennial. The feedback was generous and incisive.
During the final day, I met again with each group to go over their next steps and a sustainability plan. I recommended that each team bring a programmer and/or creative technologist on board in my absence and created a task list for their development sprints. There were plans to refine the prototypes to participate in a Street Festival when I left. We also discussed having some additional mentorship opportunities for grant writing and pitch training facilitated by InogarArt.
Then I had a lovely lunch (and a chicken dessert!) with Senay on Bagdat Street, and received a beautiful gift from the U.S. Consulate, which is now hanging on the door to my apartment in New York City as protection. And I shared a final meal with my new family to close out our time together where much excitement emerged around certificates of completion.
While I did not see much of Istanbul because our work schedule was intense, and the participants required extra assistance, I did manage to try a wide variety of foods (I fell in love with Tatuni), experience some art, and several of the participants took me on small tours of different neighborhoods.
I witnessed the grandeur of Sophia Hagia, visited the Museum of Innocence followed by a serendipitous tea and wonderful performance in the Beyoğlu neighborhood, enjoyed a midnight hamburger and stroll up to Taksim Square and through the transgender red light district, took the ferry to Kadıköy where I had shared a tea and a lovely conversation via Google Translate with an air traffic controller before giving a talk for the UNHCR, and even managed to get on Turkish TV and squeeze in Hamam after an evening of parkour (I will spare you the video of my Webster!).
I feel as though I was not simply a cultural envoy imparting new knowledge, but a nurturer who quietly cultivated a new family. It was one of the most fulfilling and positive experiences I've encountered in my life, and we created a very special bond. The participants even plan to meet monthly as a full group, and have ideas for other collaborative projects.
I left Istanbul with a full heart, appreciative for the experience and all the hidden labor that goes on behind the scenes by Shamsher and Maya to make American Arts Incubator such a unique experience. Teşekkürler!