I arrived in Bangkok a couple days ago. Here, you cannot escape the physical effects of the place. It is humid and muggy outside, and once you're inside, your sweat dries from the blasts of AC and you become very cold.
This is the dialogue I quickly experienced: man-made versus nature. Traffic is omnipresent and there are air-conditioned shopping malls everywhere. However, nature still looms large with adverse weather, flooding, and of course, the Chao Phraya river.
On my first day, as I wandered, I also wondered. How many people actually have a relationship with the river that runs through Bangkok? How often do they think about the lifeblood of this city, which provides drinking water, transportation, and in the past, food?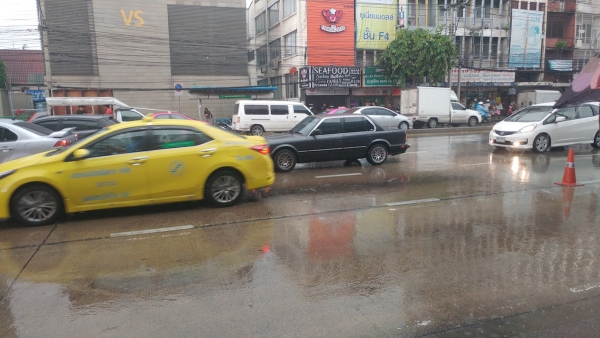 Raining in Bangkok, May 30. Photo: Scott Kildall
The next morning, I visited the Huay Kwang community. This group of people has lived on the banks of the Chao Phraya for many decades and are low-income, often forgotten by the business and shopping districts. When it rains, the sewer infrastructure backs up and floods the river. Like many cities, the pavement and cement prevents water from flowing naturally into the ground.
The community is currently developing a master plan to relocate their residences to higher shores. It isn't easy. After all, no one wants to lose their home. Their plan also details widening the canal, dredging it, and establishing a transportation lane for tourism and commerce.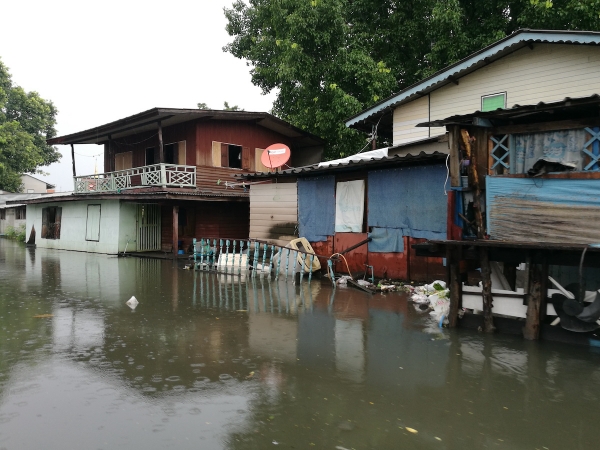 River Tour, May 30. Photo: Scott Kildall
I listened to community leaders and their hopes for the workshop. I made several points, but one of the most important ones was to set expectations for what I can really do here. Since I'm only here for a month, we decided to focus on how to create sustainable projects and make public art with water data.
I also met my assistant, Ekarat, who is super helpful and will be assisting me throughout this experience. I can't imagine how I would make this project a success without him.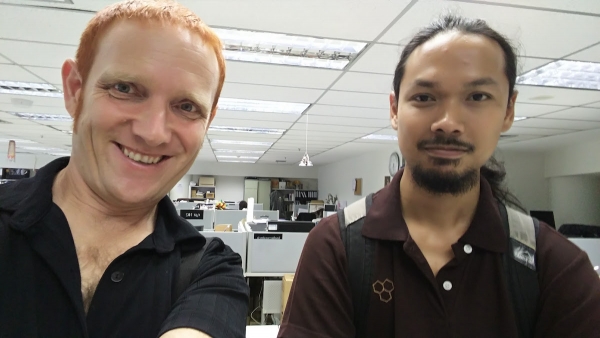 Scott and Ekarat, May 30. Photo: Scott Kildall
Yesterday, we spent an entire day procuring items. The best find was these small containers. They are often used for hot sauces, but we will use them for water samples on the Chao Phraya. They were a bargain at 10 baht (30 cents USD) each!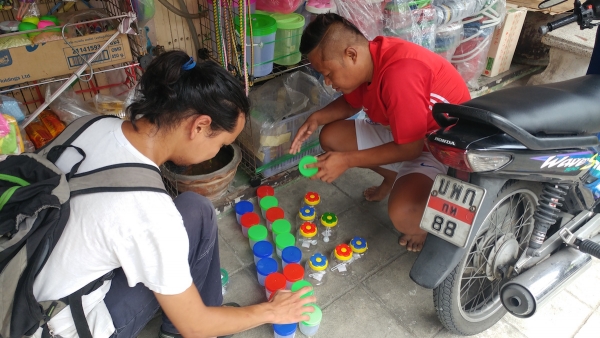 Water Sampling Jars, May 30. Photo: Scott Kildall