What constitutes an artist community? And how can art contribute to and challenge political processes? As I prepare for my upcoming exchange trip to Colombia, I am asking these questions and finding answers in unlikely places. I've been living off of the grid in DIY communities in California — from the lush environment of Big Sur down to the dry desert heat in Joshua Tree. While the answers to these questions are still somewhat ambiguous, the reality of my living situation has provided a few graceful epiphanies along with many unforeseeable obstacles.
Sometimes mother nature has her way of becoming your most relevant concern. While living in Big Sur, the rain created many of these obstacles — from collapsing bridges to impassible landslides, creating miles of unreachable landscape. In fact, my temporary home at the Henry Miller Memorial Library lies just south of the recently collapsed Pfeiffer Canyon bridge, and so I was forced to evacuate until a bypass trail was created.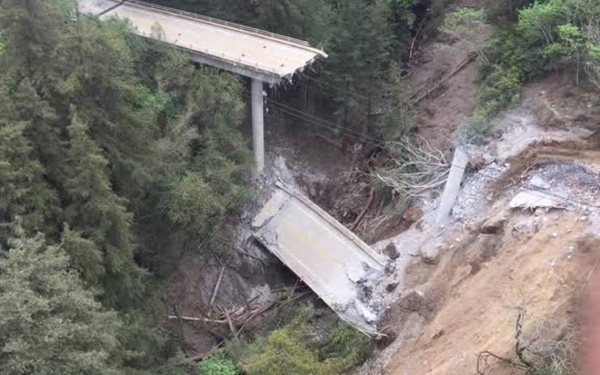 Pfeiffer Canyon bridge demolition. Photo: Stan Russell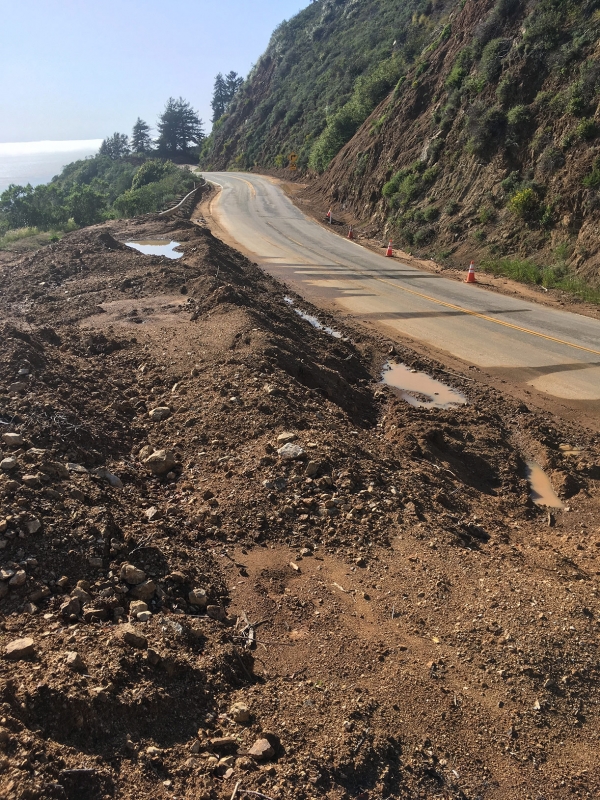 Big Sur Landslide cleanup. Photo: Nathan Ober
This real-world situation has given me much to ponder and question. How can a community focus on art when they can't find food or water, or are forced out of their homes, during famine, extreme weather or at worst — during wartime? How can we as humans overcome these obstacles and define our lives in the midst of these life threatening events?
One of the first music shows I attended and helped out with at the Henry Miller Memorial Library was back in December of 2016 with Kendra McKinley and Kelly McFarling. A crowd of 60 or more people huddled together inside a room filled by candlelight and the crackling of a wood-burning stove. We were surrounded by visionaries from the past to the present — contained within the pages of a diverse collection of books from all walks of life. While on stage, Kelly mentioned how beautiful it was that in the midst of all the recent political turmoil and world events that we could still find it in our hearts to come together and listen to a woman sing about her emotions. It made me think about humanity and perhaps our crowning achievement, which in my mind is the celebration of artistic creation. Along with food and shelter — art, story, song and dance are vital to the human condition and when the world beats down on us it is art that serves to lift us up again.
My objective in Colombia is to create and foster these very kinds of "safe spaces" and creative environments. I believe that the act of creating art, especially in times of turmoil, is perhaps our most necessary combatant in creating a brighter future. Born out of necessity, art aims to congregate, engage and ponder life's biggest questions — to hear and listen through another's ears, to see the world through another's eyes, to think for oneself and question the world at large.
To address these notions, I'll be leading a workshop series in Colombia entitled, Digital Storytelling through Immersive Art and Tech. During the workshops we will be exploring a diverse range of topics and artistic techniques, allowing the participants to expand their own conceptions of what art is. We will build a greater communal discussion holding art as a centerpiece in dealing with social inclusion. We will be working with new digital fabrication techniques, sound and video production, device hacking, and projection mapping, which will lead to a series of four community projects addressing the topic of "Inclusive Memory for Peace". The artist collective developed through these workshops will then expand to include artists, researchers and organizers from different backgrounds and social movements.
At this point, I cannot be certain of what will transpire or even what the ultimate outcome will look like, but as I begin packing and prepping for this upcoming exchange I become more aware not only of the difficulties but also the endless opportunities ahead. And as a final note to this chapter, I'd like to quote a man who, not through his own actions but through his life connections, led to the creation of one of the most humble and magical communities I've thus far encountered at the Henry Miller Memorial Library.

Big Sur California, Highway one closure. Photo: Nathan Ober
"The world presses down on all alike. Men are not suffering from the lack of good literature, good art, good theatre, good music, but from that which has made it impossible for these to become manifest. In short, they are suffering from the silent, shameful conspiracy (the more shameful since it is unacknowledged) which has bound them together as enemies of art and artist. They are suffering from the fact that art is not the primary, moving force in their lives. They are suffering from the act, repeated daily, of keeping up the pretense that they can go their way, lead their lives, without art. They never dream — or they behave as if they never realize — that the reason why they feel sterile, frustrated and joyless is because art (and with it the artist) has been ruled out of their lives. For every artist who has been assassinated thus (unwittingly?) thousands of ordinary citizens who might have known a normal joyous life, are condemned to lead the purgatorial existence of neurotics, psychotics, schizophrenics."
– Henry Miller
"Big Sur and the Oranges of Hieronymus Bosch"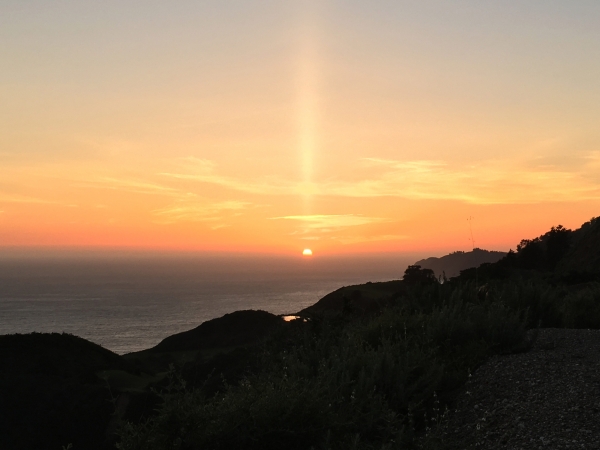 Big Sur California, Sunset. Photo: Nathan Ober