The workshop phase of the Arts Incubator went into full force this week. The goal was to fill the participants' brains with new ideas, complex issues, practical experience, and technological know-how until their minds were completely blown, then to clean up those mangled brains and distill all those experiences into four projects teams. At the end of the week, we presented all the projects to a community panel including a special guest from the US Embassy in Manila and the President of the Banilad Bantay Dagat (Marine Guardians).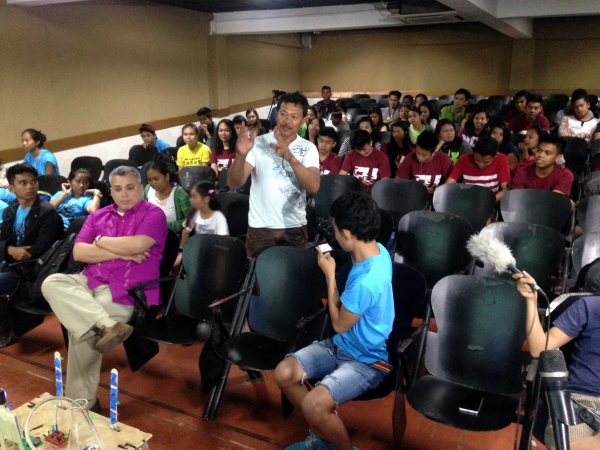 Bantay Dagat President Marcielo. Photo by A. Quitmeyer.
At the beginning of the week, we made some site visits, tested out the first part of the BOAT Lab, and interviewed locals about the issues that matter most to them. Our site location is Banilad, a sleepy little fishing community with a hidden treasure of a coral reef right offshore. We found their biggest concerns were the pollution in the area and how the water quality might affect both the beach and the marine protected area.
Loading the BOAT lab into the water for the first time. Photo by Zorich.
Then we came back to our (non-floating) workshop to dive into these ideas and create prototypes.
Testing pseudo-3D projection in water vapor. Photo by A. Quitmeyer.
From this grew four strong teams each addressing an issue of how to combine art, science, and technology to help combat and increase awareness of ecological destruction. I could tell you about each team right now, but it's been an exhausting week, so you can learn about what each team is going to do in the next post!
In the meantime, here's a great way to immerse yourself in our process. We've been fortunate to have a world-class student documentary team from Foundation University capturing all the amazing work that's being done. Check out some of the videos they have been putting together daily covering our projects: