Our four teams have been working diligently on their community projects. I asked each one to submit a progress report and got different types of responses. Here they are in raw form with just a bit of editing on my part. Each one is headlined by a nickname for their team, followed by the project name. You can reference my most recent blog post, Community Projects Underway, for short descriptions of each project.
---
Team Hydra — The Cleansing of a Canal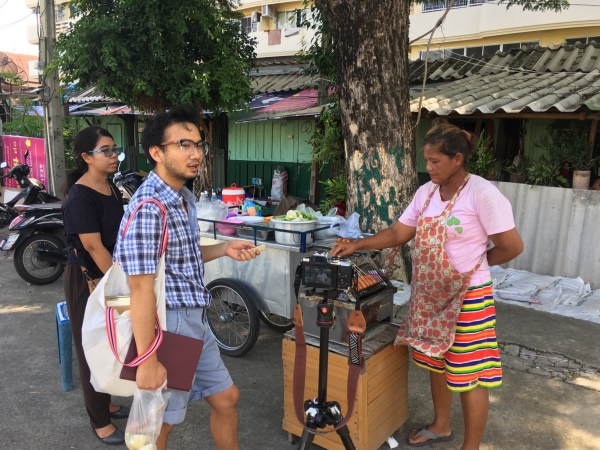 Interviewing, June 16, 2017. Photo: Bundharika Chavakul.
When we first arrived at Ruamjaipiboon 2 community along Ladprao canal, we were instantly hit by the smell of its polluted water. How could someone live like this? It's right on dark water with all sorts of garbage? Does this affect their health at all? It certainly gave us a headache after spending a few hours there. We couldn't stand the smell.
We met up with members from the community — Auntie Tuk, who talked cheerfully of her granddaughters and her terrible health. She took us to see Auntie Noo who runs a small food stall, feeding the community with her delicious meals. They talked candidly about the housing situation. Where do we go? What can we do? We chatted about life, we ate, we laughed. What is it with this place? It might not be the ideal place to live, but it certainly felt like home.
Team Hma Ngoy — Reflection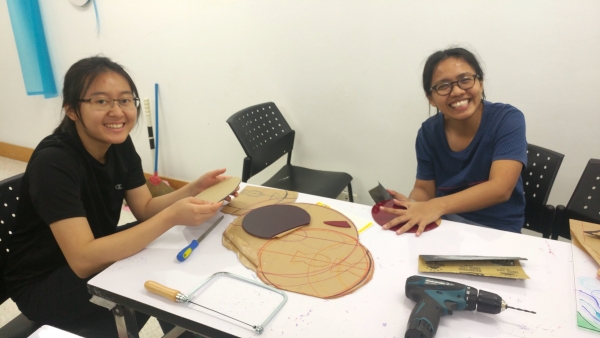 Cutting acrylic, June 16, 2017. Photo: Scott Kildall.
Today we went to a stationery store nearby and bought some materials and tools such as cutters, glass paint, and couple of acrylic sheets which we decided to use instead of stained glass. We also began to design how we are going to transform our hard data into each acrylic sheet. Last but not least, some of us volunteered to clean up the box which will be the standing base for our final work.
Team Sansab — River Voices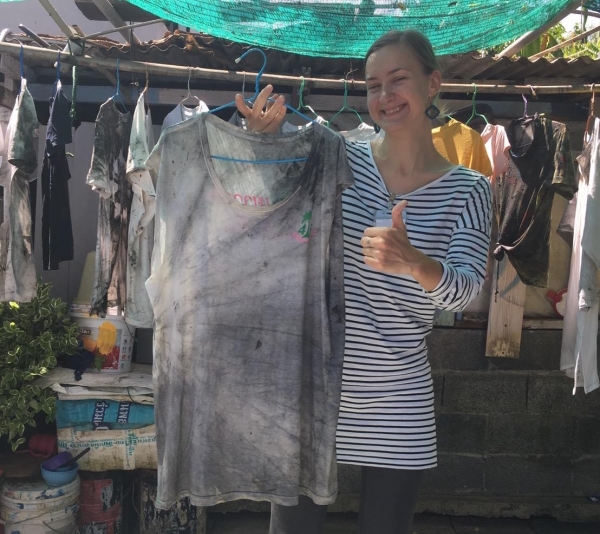 Dipping t-shirt, June 16, 2017. Photo: Sirikoy Chutataweesawas.
Our project's name is "River Voices" and our main idea is to work with the Ladprao community and to create collaborative art. So in this sense we are very dependent on the community people. On Thursday, we had the first site visit and it was a very strong impression! The community is living in very poor conditions and people living there are vulnerable with lack of education and suitable jobs. But they are a very curious and hospitable people. There are community leaders who are doing a lot of good and right things for these people and trying to create links between this community and the outside world.
So here we were! Our activity consisted of two workshops. The morning "t-shirts workshop" idea was to collect around 30 t-shirts from the community people of different ages and to dip these items in the canal water on different levels. Then we collected all the data needed (t-shirt owner's information and their house coordinates). In the second, after-lunch "children's collaborative art" workshop we discussed the present canal condition and asked children to draw their ideal canal/water life. We will extract the healthy water "ingredients" from the children's drawings and create a logo which we are going to print on the new t-shirts and gift to all the community people who were participating in the workshops.
The great, hot, very intense and amazing experience of Saturday workshops has taught us so many new things — to be flexible working with the community people, to be ready that what you have planned would not necessarily work exactly that way (which is fine as well), to always keep in mind that this is not only you who is sharing something with the community, but this community is sharing a lot with you too! Amazing!
Team Tum Raud — Make it Clear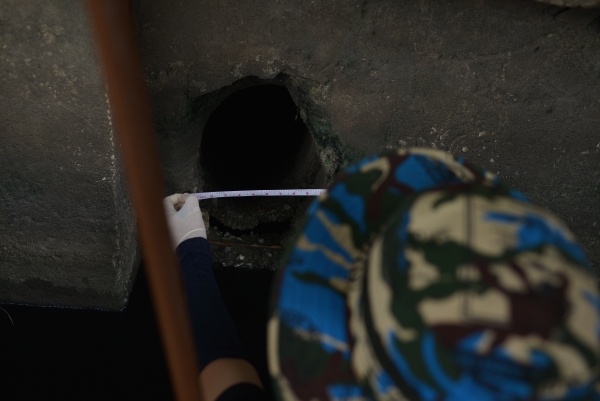 Measuring sewage pipes, June 16, 2017. Photo: Nuttapong Tonhirunmas.
We were planning to collect data from Ladprao community 45's canal. Then we found more than 50 sewage pipes, which we measured and mapped. These are waste disposal drainage for stormwater before going out to the Chao Phraya. After this, we will transfer our data target into artwork.