We received updates from the American Arts Incubator participants in Cambodia! Here's what they've been up to since the exchange wrapped up in May (submissions have been edited for length and clarity):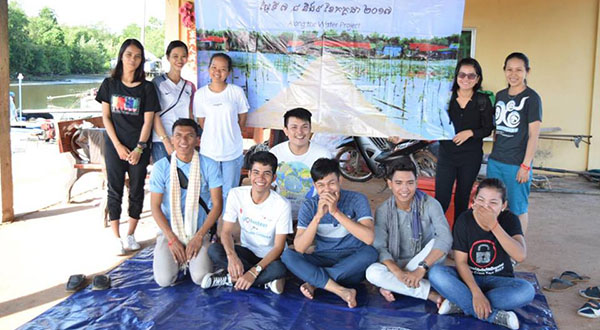 The Along the Water project is in its second step version — we succeeded with our camping and training students to follow our plan. We also shared our experiences with the community and students about our environmental issues and worked well together. We also used the 360-camera to record the video of all activities during camping and got back a lot solutions from students' analysis too.
Now we are a bit busy processing our videos and preparing all documents and our personal work but we hope to finish them and share with you soon.
We have solutions for communities now. We wish to find audiences or a small fund to build up our solution and donate to communities for sustainable community life.
Additional details and photo video documentation at https://www.facebook.com/pg/alongthewater
Bringing the Forests to Bophana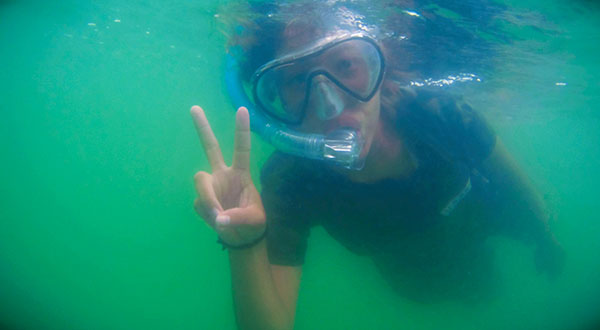 Exploring the island. Photo courtesy of Team Forest and Wildlife.
"Bringing the Forest to the City" will be the second phase of the first project "Bringing the Forests to Bophana." We want to influence people's mindsets to love nature, particularly forests and wildlife.
This second phase will bring another new flavor by capturing a forest on an island and in a valley by using a web mapping application as a tool to connect one location to another by using virtual reality. Our group of three has been working together since late June, and we are expanding the locations within Cambodia, specifically: Kos Seh Island in the Kep archipelago and Areng Valley in Kos Kong province so users can explore more forest types since the previous project focused on dense and semi-dense forests.
This current project is working on shooting new underwater worlds and locations deep in the forest, and once completed, an exhibition will be held in various locations including the Farm To Table restaurant, Kid City playground, and Bophana Center.
Trash is Not Bad! Plastic Commune Project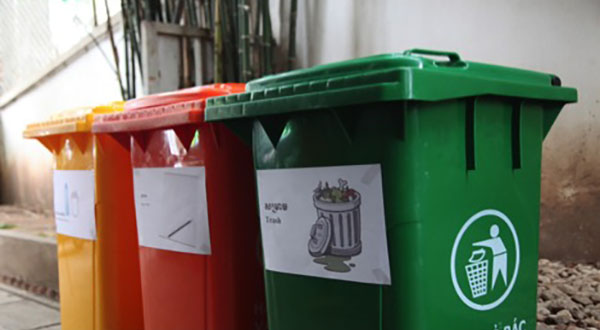 Educational efforts. Photo courtesy of Team Plastic Commune.
For the second project supported by American Art Incubator — Cambodia, Plastic Commune group will shoot video using the 360-camera about the feeling of the bottle which we would like the people know how they feel and take care of them from now on. In the meantime, we are also growing our social media in order to address the waste issue in Cambodia. Basically, we focus on the Facebook page and our website. We are also preparing a proposal for an NGO which has a creative incubator. They would be able to give us support, space to work, funding, technological support, workshops, business training and support, and mentors.
To finish this project, we will select one educational location to teach children about the trash issue by using our tool that we already prepared from our first projects. We will teach children how trash can be recycled to be a souvenir or useable material.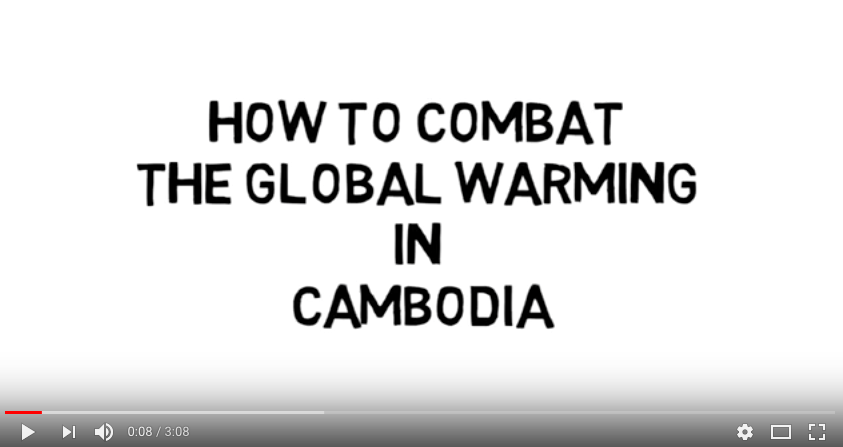 Screenshot from video update of Team Global Warming.
This team sent us a video as their project update, which can be viewed here: https://www.youtube.com/watch?v=kNmzY6qwpoY