More Than Love on the Horizon
After four weeks, lots of conversations and translations, hard work, and even some tears, we installed the More Than Love on the Horizon exhibition. We opened the show featuring my hologram project and the work of six community artists at Nha San Collective to an enthusiastic audience of over 200 people.
Among our honored guests, Michele Peregrin from U.S. Department of State's Bureau of Educational and Cultural Affairs, Shamsher Virk from ZERO1, and U.S. Ambassador to Vietnam, Ted Osius.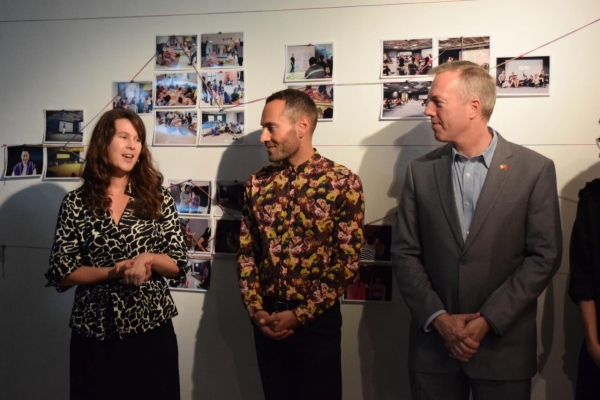 Left to right: Michele Peregrin, U.S. Department of State; Shamsher Virk, Zero1; Ted Osius, U.S. Ambassador to Vietnam. Photo by Yen Nguyen.
We even had an Asian American Queer delegation from Los Angeles. Well, not an official delegation, but I was thrilled that my friends flew in from Los Angeles to show support.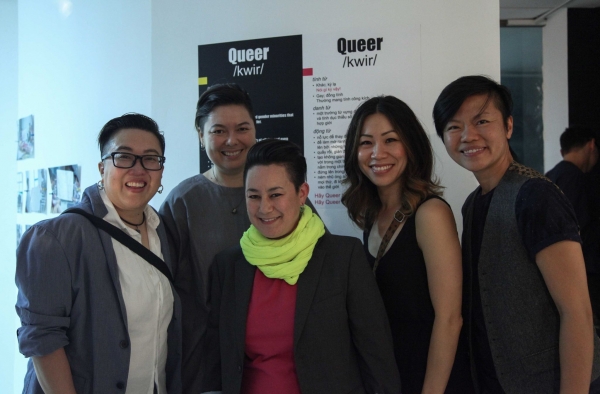 Left to right: Alicy Y. Hom, Stephanie Syd Yang, Erin O'Brien, Vera Miao, Y Thuan La. Photo courtesy of Alice Y. Hom.
But honestly, the most distinguished guest at our opening event was my mom. I'm sure when I came out to her 22 years ago, she had no idea what the future would hold for me. I can only hope I have made her proud with this opportunity to come back to her country and work with local LGBTQ community to tell their stories.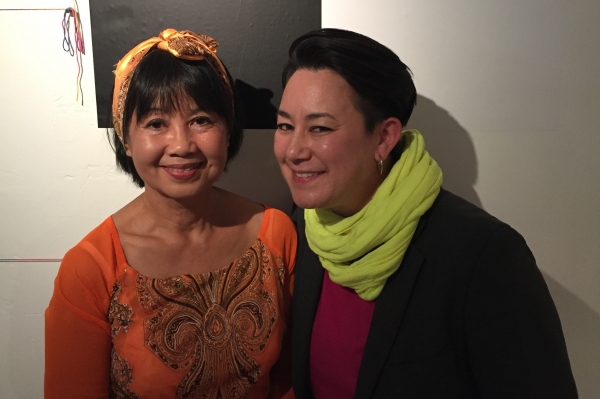 The artist and her mother, Marguerite Ngoc O'Brien and Erin O'Brien. Photo by Yen Nguyen.
I loved that my mom came to help out. She cooked for the community artists while they were installing and even helped with the art installation.
When she met the Ambassador, her words were particularly evocative for me. My mom, the wife of a career Foreign Service Officer and mother of an openly queer daughter, leaned over and said to Ambassador Osius, one of only five openly gay Ambassadors in the U.S. State Department, "We have been waiting a long time for you."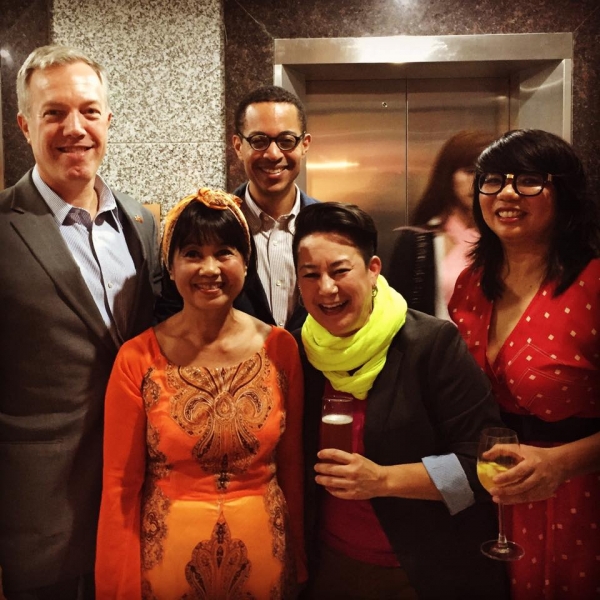 Left to right: U.S Ambassador to Vietnam Ted Osius, Marguerite Ngoc O'Brien, Husband of U.S Ambassador Clayton Bond, Artist Erin O'Brien, Creative Producer Linh Phan. Photo courtesy of the artist.
In my remarks, my first thank you went out to the U.S Department of State. Thanks to the U.S. Department of State, my parents met, married, and made me. Years later, as a Fulbright Fellow, I was afforded the opportunity to meet many of the contemporary artists in Vietnam, a crucial step for my development as an artist post graduate school. The connections I made during my Fulbright were vital in the production of this project. Now, as an American Arts Incubator artist, I was able to return to Vietnam to complete this project that for me, as a Queer Mixed Race Vietnamese American woman, is so close to my heart. I was able to take my experience as an artist and community organizer and engage in social practice — facilitating workshops with LGBTQ community members to incubate creative strategies that address LGBTQ visibility and equality in Vietnam. Everything has come full circle for me.
I'm so proud of the work our community artists contributed to exploring LGBTQ visibility. Here are the projects and some photos from the opening party.
Community Artists Project Installations in the Gallery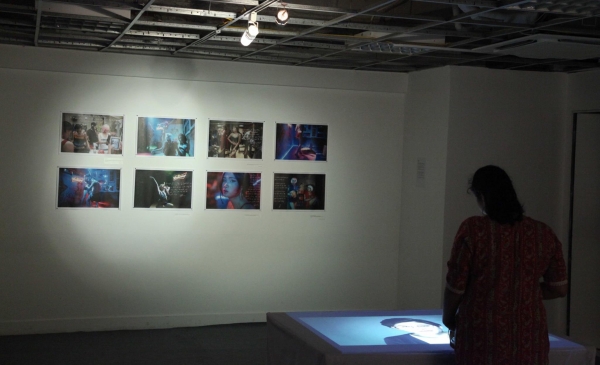 Photographs and video installation by 
Bùi Hoàng Long.
Photo by Yen Nguyen.
Bùi Hoàng Long – Hanoi Love
HANOI LOVE is a video series depicting stories of love and acceptance from the LGBTQ community and their families, friends, and lovers. The series shows that people identifying as LGBTQ are children, friends, and family members, who are the same as everybody else and should not be excluded from society.
Follow Long's work on Humans of Hanoi.
Check out some of these powerful videos: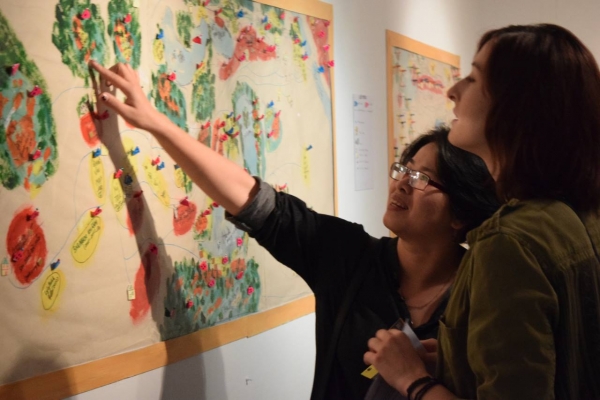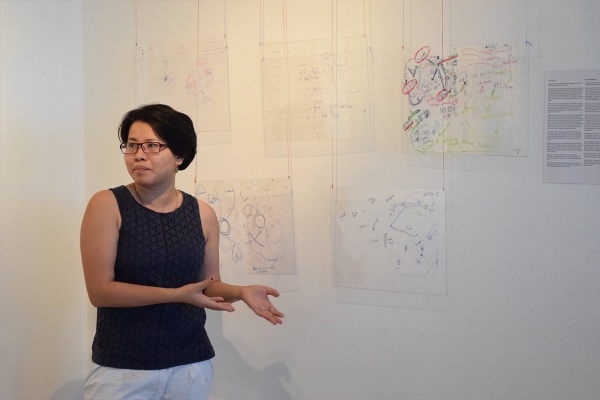 Nhung 
Đinh stands in front of her maps of Hanoi which trace the historic, social, and political history of LGBTQ Vietnam. Photo by Erin O'Brien.
Đinh Nhung – Mapping Queer Hanoi
Nhung has mapped queer spaces in Hanoi that are personal but also communal, especially of the older generation living in Hanoi. By making this map, Nhung wanted to learn more about hidden personal histories and create an opportunities for those stories and histories to be shared and made visible. Ultimately, sharing the connections and memory maps of different special places in Hanoi, she hopes we expand our love to each other and to the city.
READ MORE about Mapping Queer Hanoi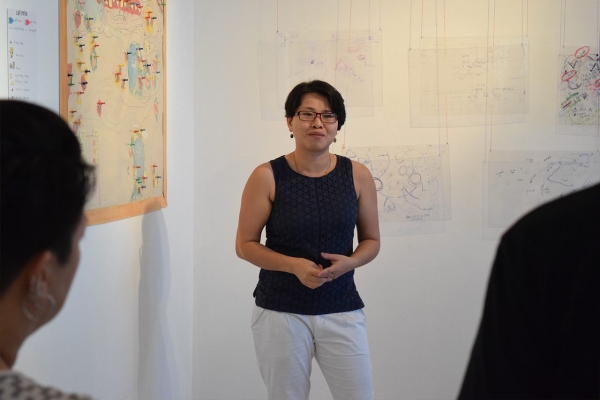 Nhung talks about her process of mapping queer spaces in Hanoi. Photo by Erin O'Brien.
You can find a deeper interactive experience of Nhung's maps with "then and now" photos of some of the spaces she has mapped around the city. She is continuing to add content.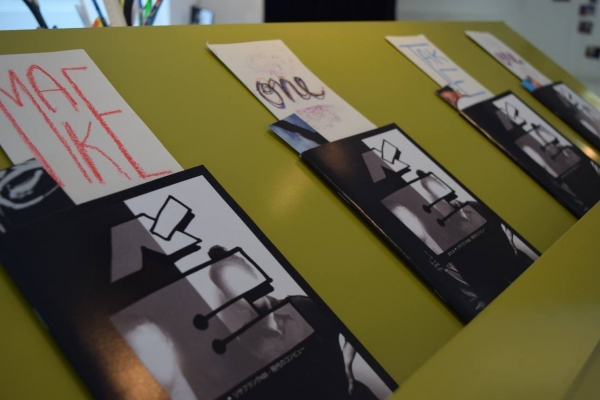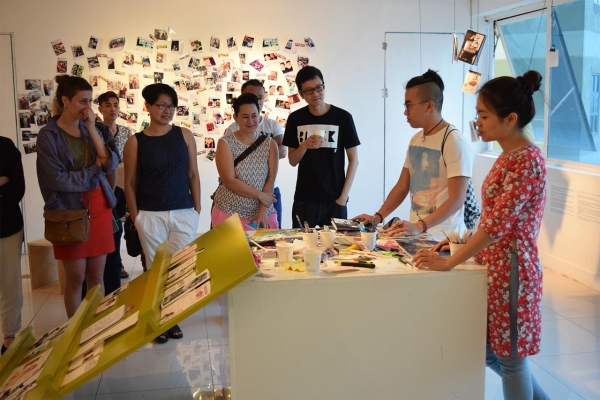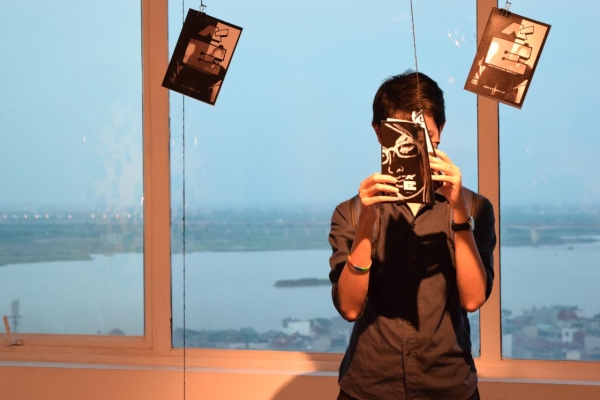 Zines display. Artists Ian Quee and Quyen Quyen talking about the making of their zine. Photo courtesy of Nha San Collective.
Zines hanging. Photo by Yen Nguyen.
Ian Quee and Quyên Quyên – Ế
Ian and Quyên make "Ế", a queer art and literary zine. As queers, they reject the notion that a straight relationship and its trappings (marriage, nuclear family, male-female roles, etc.) are the "default." They convey this message through original and curated art, photography, short stories, poetry, and pop culture reviews.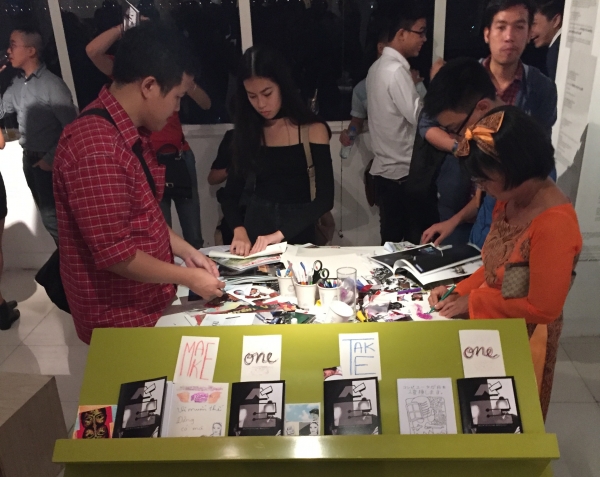 Zine making station where anyone can make their own zine. Photo by Erin O'Brien.
Check out the entire zine and download your own copy.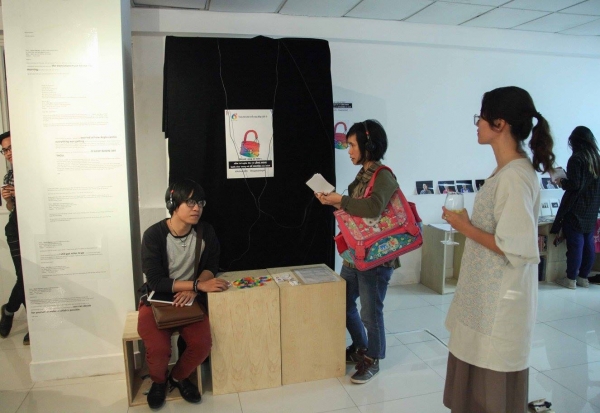 Oanh oversees Shelter of LGBTQ, outside you can listen to stories of LGBTQ people and inside you can record your own story. Photo by Yen Nguyen.
Vũ Kiều Oanh – Shelter of LGBTQ
"Vùng an toàn rộng mở – Shelter of LGBTQ," initiated by Vu Kieu Oanh and Group 6+ is collecting stories waiting to be heard. Stories by members of the LGBTQ community who suffered abuse and encountered prejudice in the past but still respect and love themselves. The stories are presented as audio files and Oanh has built a "safe shelter" which resembles a public booth in which members of the audience to recount and record their own stories.
READ MORE about Shelter of LGBTQ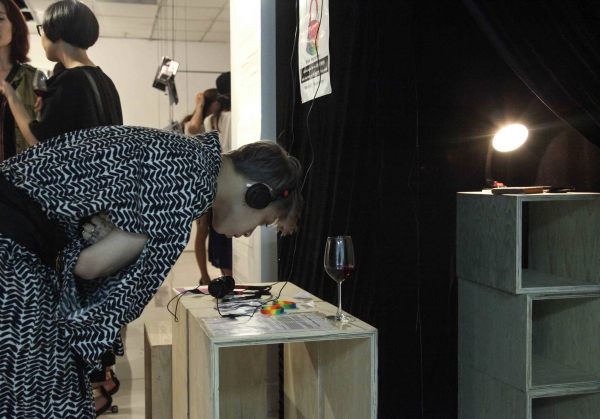 Attendee listens to LGBTQ narratives. Photo by Yen Nguyen.
People can record written or audio stories. Photo courtesy of Nha San Collective.
Keep up to date with LGBTQ events in Hanoi by following 6+ on Facebook.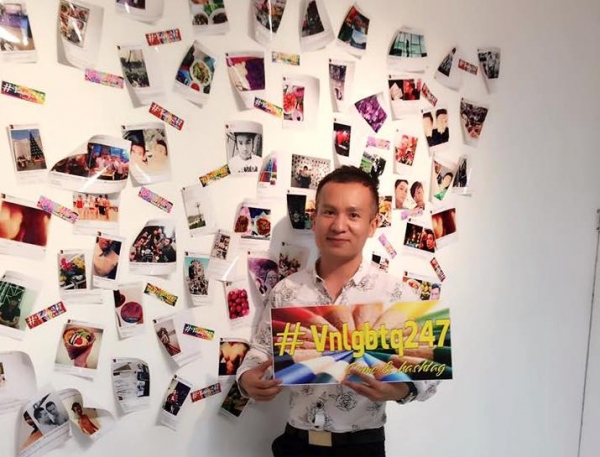 Duy displays his #VNLGBTQ247 hashtag campaign and installation. Photo courtesy of Duy Quang Nguyen.
Nguyễn Quang Duy – #VNLGBTQ247
#VNLGBTQ247 uses photos taken and provided by the Vietnamese LGBTQ to tell stories about their everyday life. The project utilizes digital tools, cameras, and smart phones, which most people have these days to record the moments and social media including Facebook and Instagram to spread the word.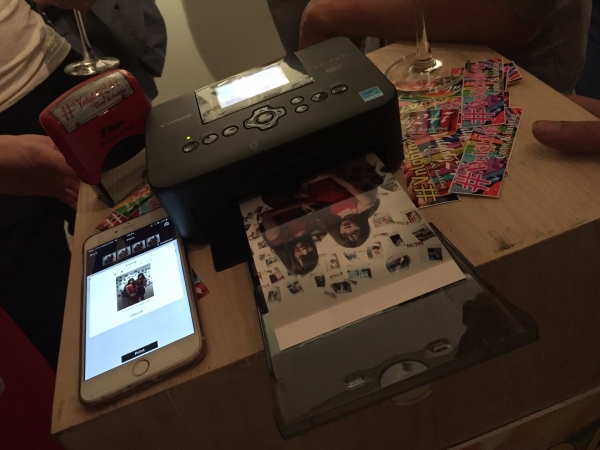 At the opening people could have their hashtagged photos printed and posted on the wall. Photo courtesy of Nha San Collective.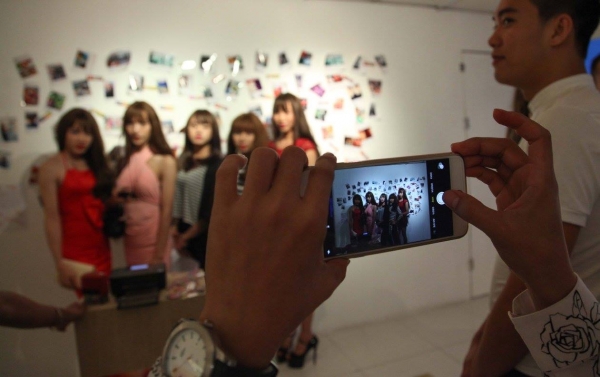 Everyone was clamoring to have their pictures take, hastagged, printed and posted. Photo by Yen Nguyen.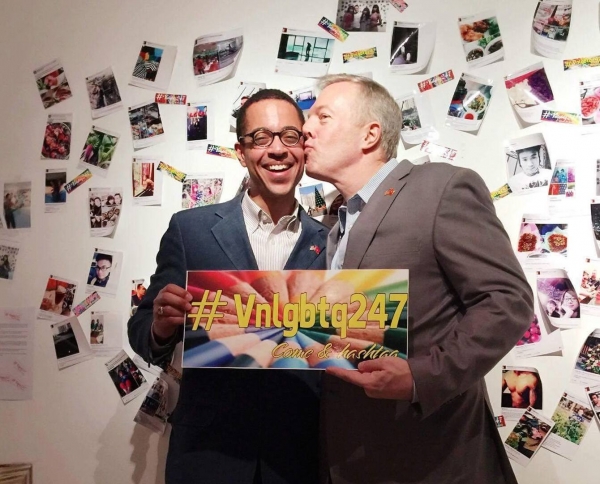 Even Ambassador Osius and his husband Clayton Bond hop in on the hashtag action. Photo by Duy Quang Nguyen.
Keep tabs on this campign to show LGBTQ life in Vietnam by liking the page and following #VNLGBTQ247 on Facebook and Instagram.
Images from the #diemchamcauvong visibility campaign. Photo courtesy of Nha San Collective.
Lê Đức Anh – Điểm Chạm Cầu Vồng
"Touched by the Rainbow" is an action campaign to increase the visibility of the LGBTQ community in Vietnam to eliminate the gap between the LGBTQ community and mainstream society. By creating the hashtag #diemchamcauvong ("touched by the rainbow") Anh hopes members of the LGBTQ community and their supporters can share spaces where they feel free and comfortable.
READ MORE about #diemchamcauvong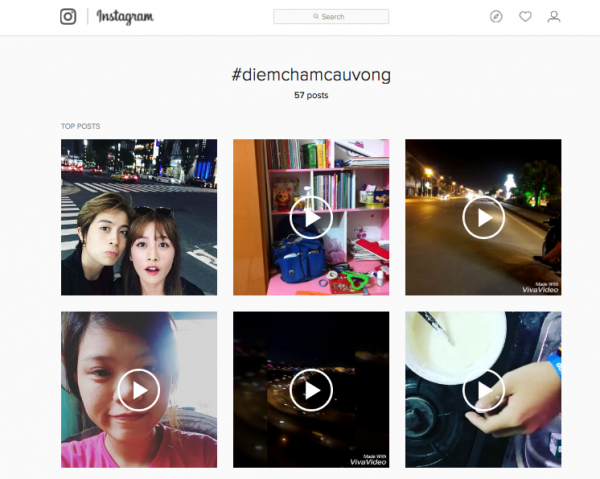 You can follow the hashtag campaign on Facebook and Instagram.
Find #diemchamcauvong on Facebook and Instagram.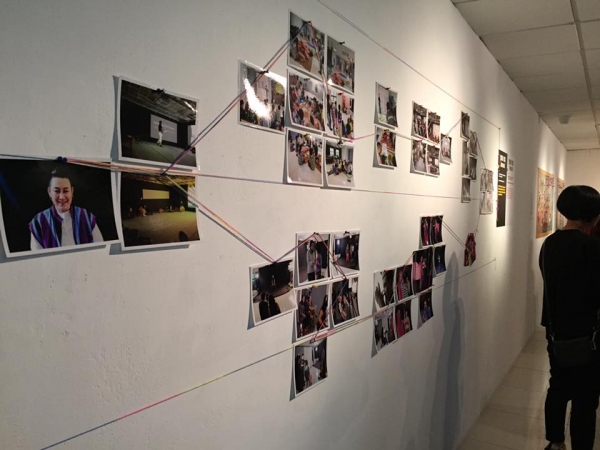 Documentation of the process by Yen Nguyen. Photo by Alice Y. Hom.
Yen Nguyen – Documentation of the Process
We are so fortunate to have had the indomitable Yen Nguyen documenting our whole process from beginning to end. She was integral to our workshop process, holgram film shoot, work with community artists. Her photos of the incubator and process frame the entire project.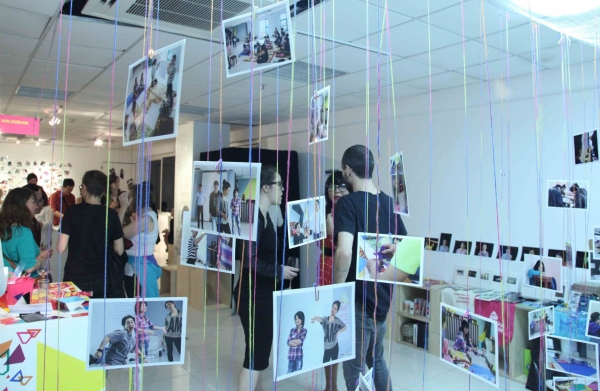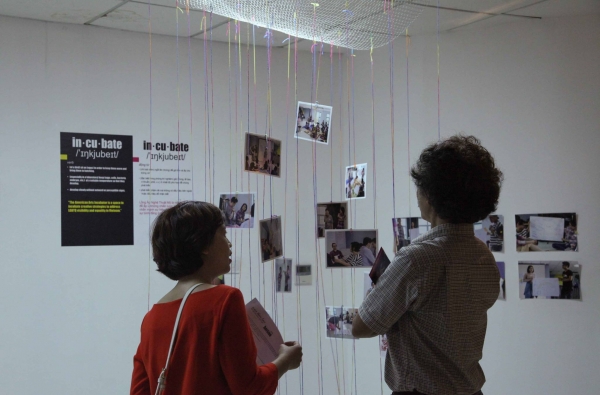 Documentation of a process. Photo narrative installation by Yen Nguyen. Wall text by Erin O'Brien. Photos courtesy of Nha San Collective.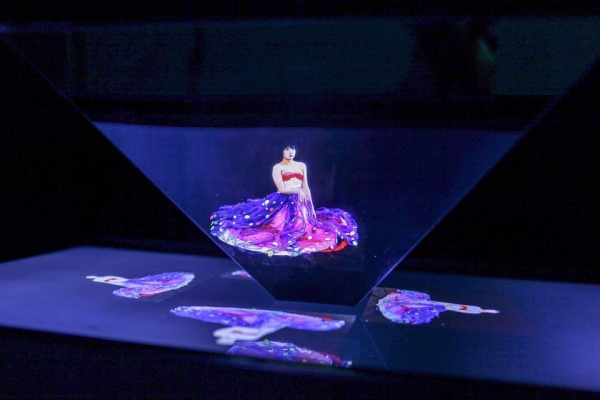 Hologram installation by artist Genevieve Erin O'Brien. Photo by Yen Nguyen.
More Than Love on the Horizon: Queer Projections.
And last but not least my own project, More Than Love on the Horizon: Queer Projections. In thinking about how to project an image of Queer Vietnamese to increase visibility and further Vietnamese LGBTQ equality, I thought about ways that images are projected. I thought about holograms. Holograms have both optical presence and special quality as they mix reflections with the scene beyond. Holograms are a "window with memory." Holograms are visually complex and multidimensional and challenge our perceptions. Holograms illustrate the Queer space-time continuum in that they are a projection of how the past imagined the future, but in the present time. Princess Leia and her hologram message inspired me, and to be honest, Princess Leia was one of my first crushes. In the past, Star Wars projected in idea of what the future would look like. I chose to use the past's version of the future's technology, holograms, to record the present and imagine what an LGBTQ future for Vietnam might look like. The holograms operate as a way to telegraph and transmit an image of Lesbian, Gay, Bisexual & Queer Vietnamese. Holograms also serve as a metaphor for queer desire. These holograms also make these images of LGBTQ Vietnamese accessible to those who may not see this community in a critical mass and highlight those who get to participate in a glittery ghostly presence.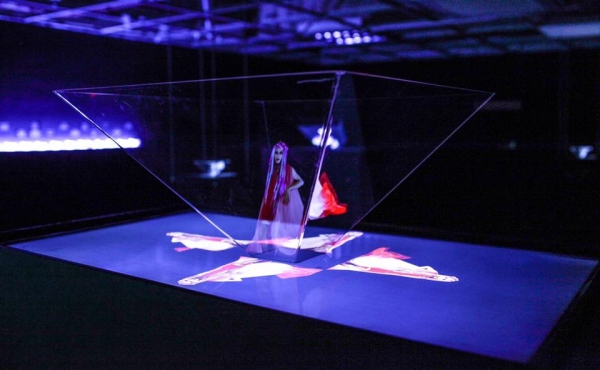 Hologram installation by artist Genevieve Erin O'Brien. Photo by Yen Nguyen.
Using DIY holograms, I project the future while figuring the past and centering LGBTQ Vietnamese in the present. Selections of the holograms were installed in the gallery space. The collection of hologram videos can be accessed via the website and here are the instructions to make your own DIY hologram projector.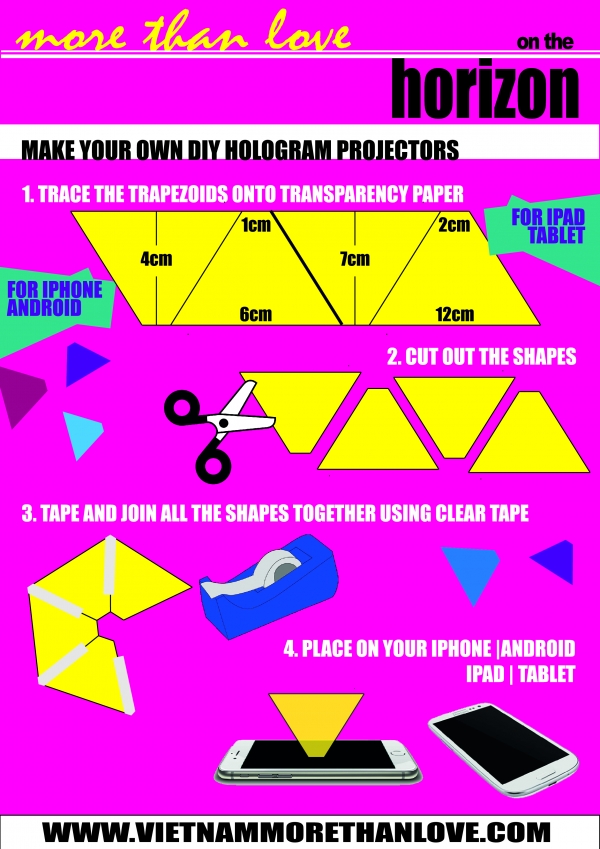 DIY Hologram projector instructions. Designed by Linh Phan.
I was humbled to hear these stories of everyday life of LGBTQ Vietnamese. I was honored to be able to share their dreams, and their own projections of what Queer Vietnamese future would look like. I was moved to bear witness to these narratives of courage and resistance. One participant spoke of her experience as a transgender woman. To build community and create visibility, she and a few other trans women started a group — Ruby Girls — and started doing fashion shows at cafes. One time, during one of the Ruby Girls fashion shows, the police raided. Out of concern for her friend, the café owner, who she knew was not out, she offered herself instead. When the police loaded her into the paddywagon they insisted that she sit down. She shared that, in an act of resistance, she refused their orders. She stood in all her glamour in the back of the truck refusing to sit. She knew they weren't doing anything wrong or illegal by having these fashion shows. She also wanted to there to be some public accountability, so that people would see that she was being arrested and they would know where she was in the event she was "disappeared" a fate that has befallen numerous bloggers and advocates for democracy in Vietnam.
Make your own hologram projector to watch this story on your smartphone or tablet. Video by Erin O'Brien.
The centerpiece of my project was an upbeat dance piece featuring LGBTQ Vietnamese community dancing along to the song Amazing by Hi Fashion. The song really spoke to me as a queer Vietnamese American woman. That no matter what judgements others may hold about us, as Queer, gender queer, transgender people we are "amazing." With that spirit we can be courageous and bold and fabulous.
More Than Love on the Horizon: Queer Projections centerpiece Hologram video. Video by Erin O'Brien. Song "Amazing" by Hi Fashion.
Indeed, we may have been too fabulous for Vietnam, our show was shut down by the Cultural Police the very next morning. Maybe they were mad they didn't get an invitation to the partay. But, seriously, censorship is still a major issue in Vietnam and, in the shadow of the 30/4 Liberation holiday, the goverment often extends its net of power as widely as possible. Most unconventional ideas, resistance to the status quo, democracy activists and bloggers get caught in the party net – an illustration of the well deserved scrutiny of Vietnam's government for Human Rights abuses. But we remain courageous and bold and, well, everything is online! All the projects and videos are housed on the website: www.vietnammorethanlove.com.
The hashtag campaigns continue.The Vietnamese LGBTQ community is gaining visibility and hopefully equality follows suit. Because we know we're amazing.
Thanks and Glittering Gratitude
This whole project could not have been possible without the help of many people, most of whom are not self-identified LGBTQ. These people took time to dedicate to the success of not just our workshops, my hologram project, the community artist projects and opening night, but to invest in the future of LGBTQ Vietnamese. We are so grateful to our allies in the movement.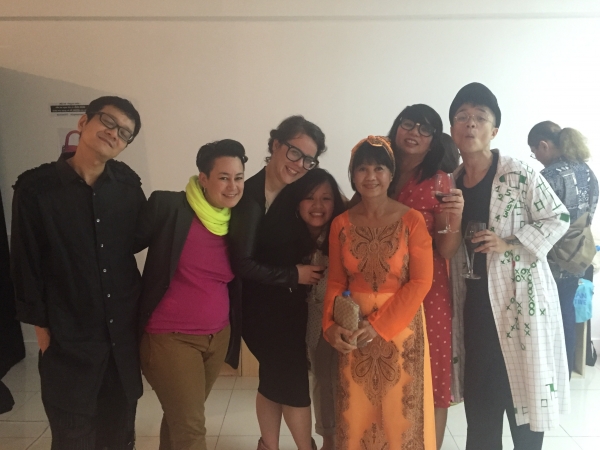 Allies in the movement for LGBTQ equality and creative production team for More Than Love on the Horizon. Left to right: Thanh Nguyen, Erin O'Brien, Fabiola Bunchele, Maia Do, Marguerite Ngoc O'Brien, Linh Phan, Bill Nguyen. Photo courtesy of the artist.
A great big thank you to all those who helped pull this project together. A complete list of those we owe deep gratitude is on our site.
The excerpts from artist statements in this blog post were written by the community artists themselves with translation by Maia Dao and editing by Bill Nguyen.